Lawyer - Suarez to appeal ban
Luis Suarez's lawyer has revealed says the Liverpool striker will appeal against the eight-game ban imposed on him.
Last Updated: 22/12/11 8:38am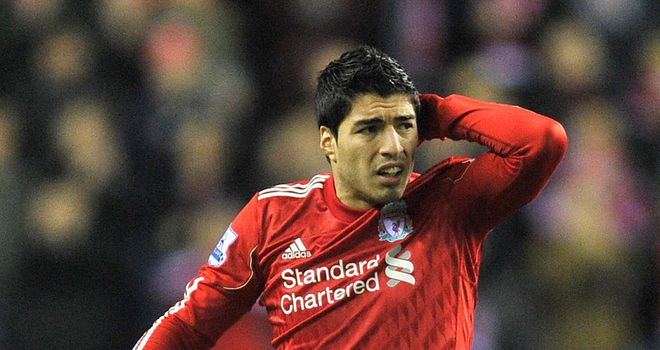 Luis Suarez's lawyer has revealed the Liverpool striker will appeal against the eight-game ban meted out to him for racially insulting Manchester United's Patrice Evra.
Alejandro Balbi, who is also Suarez's agent, says the Uruguay international is "very affected" by the punishment but "calm because of the massive support of the club, the coach, his team-mates and his captain."
"The counts of racism that were made against him are not true. He firmly believes this harsh sanction can be overturned," Balbi was quoted as telling reporters in Uruguay's capital Montevideo
Suarez was handed an eight-match ban on Tuesday when a three-man Independent Regulatory Commission appointed by the FA found him guilty of misconduct after Evra accused the forward of racially abusing him.
Liverpool were furious with the outcome of the disciplinary hearing and have reiterated their support for Suarez.
The Liverpool squad earlier on Wednesday expressed their anger at the FA's decision to ban and fine Suarez and along with Reds boss Kenny Dalglish, they all wore T-shirts with pictures of Suarez on the front of them ahead of the game at Wigan.
Liverpool have two weeks from when they receive written explanation from the FA over the verdict before deciding whether to appeal, with the club insisting no decision has been reached yet.