Dalglish fully behind Suarez
Kenny Dalglish has left nobody in any doubt that Liverpool are fully behind Luis Suarez after reiterating his support for the striker.
Last Updated: 22/12/11 10:52am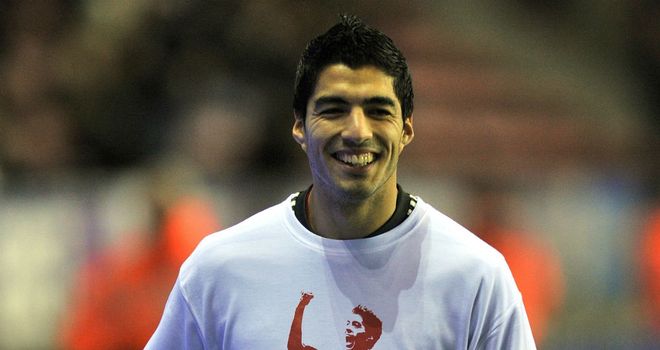 Kenny Dalglish left nobody in any doubt that Liverpool were fully behind Luis Suarez after reiterating his support for the striker following Wednesday's draw with Wigan.
The Uruguay international was given an eight-match ban by the Football Association on Tuesday after being found guilty of misconduct for using insulting words to Patrice Evra which included a reference to the Manchester United defender's colour.
Suarez was available to play at the DW Stadium as Liverpool have 14 days from receiving the written verdict from the FA to decide whether they will appeal.
He endured a frustrating night as the Reds were held to a goalless draw, but received the backing of his team-mates who wore T-shirts depicting an image of Suarez and his name and number seven.
Dalglish, who also wore the T-shirt as he faced the media, insisted that support was reflected throughout the club.
"I think if anybody had any doubt in their mind that the players and the football club, and everyone associated with the football club, support Luis Suarez, then they are under no illusions now," he told Sky Sports.
"I think the boys showed their respect and admiration for Luis with wearing the T-shirts.
"It is a great reflection of the man as a character, a person and a footballer that the boys have been so supportive and so have the supporters.
"He has earned that. He deserves it and we will always stand beside him.
"They will not divide the football club, no matter how hard they try."
Martinez backing
Suarez also received support from Wigan manager Roberto Martinez, who feels foreign players can have trouble adapting to a new country
"It is difficult to comment on that particular incident (Suarez and Evra) but in general you arrive to the British game and it is a culture shock," said the Spaniard, who first came to Wigan as a player in 1995.
"Believe me there is no right or wrong in understanding your culture.
"You are seen doing something wrong and you don't think you are doing anything wrong because your background and your culture and the way you live back in your country it is nothing wrong.
"It is the same when British people go abroad and could upset people.
"The problem is where you draw the line. We are playing in England and you need to understand what is right and wrong but you need to understand cultures bring a little bit of misunderstanding if it is an honest mistake."
Martinez pointed to Paraguay international Antolin Alcaraz's three-match ban for spitting earlier this season.
"We had an incident when one of our defenders spat at a player and back in his country it is a bad as swearing at someone," he added.
"He understands now that is wrong here. We had to pay the penalty and you need to understand and you need to learn but it is important you pay the penalty and accept the punishment but you have to understand it is not malicious.
"It is a lack of culture and misunderstanding but I don't know about that (Suarez/Evra) incident.
"I can tell you many examples of this as a player when I came over which I felt many things were offensive to me but here they were a joke.
"Opposite I did things which were very offensive here but for me it was something normal in my country so I can understand the situation from the outside."