Adam - Suarez won't be fazed
Charlie Adam claims Luis Suarez can handle the extra attention he is being given in the wake of an FA investigation into his actions.
Last Updated: 23/12/11 7:21am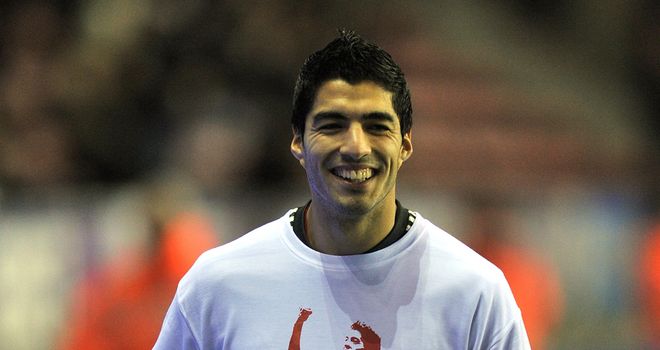 Charlie Adam claims Luis Suarez can handle the extra attention he is being given in the wake of a Football Association investigation into his actions.
The Liverpool striker has rarely been out of the spotlight since clashing with Manchester United defender Patrice Evra during a Premier League fixture at Anfield in October.
Words were exchanged between the pair and Suarez has subsequently been charged with racially abusing the French full-back - earning him a £40,000 fine and an eight-match ban.
The Uruguayan could also face punishment for an alleged offensive gesture aimed in the direction of Fulham supporters following Liverpool's 1-0 defeat at Craven Cottage.
Suarez finds himself under more scrutiny that ever, but his team-mates insist he is handling the pressure well and continues to enjoy their full support.
Exciting
"You saw how he coped with it. That is the way it is," Adam said after seeing Suarez start Liverpool's match at Wigan on Wednesday.
"He is a top player and you don't get voted for the Ballon D'or if you are a bad player.
"He is very exciting player and is a good character to have in the dressing room and we are glad he is at Liverpool and nowhere else.
"We want to just talk about the game because that is the important thing and everything else is something you deal with.
"As a group of players we are fully in support of Luis, have made the statement and everyone knows how we feel.
"That is what we discussed and that is the way we will go from now on."
Confident
Adam could have helped to take some of the focus off Suarez in midweek, but he saw a second half penalty saved at the DW Stadium.
His failure from 12 yards cost Liverpool two points, as they were held 0-0 by the Latics, but the Scotland international says he would be happy to step up to the mark again if the opportunity arises.
"I never thought I made a good connection with the penalty and the keeper made a good save but I'm disappointed I didn't score," he said.
"I scored the last one I took and was confident, but I missed it, but if the opportunity comes around again I will be there to try to take another one.
"We probably should have killed the game off (at Wigan) but it is one of those things and is difficult to take but we move on to Boxing Day (at home to Blackburn) now."