Johnson defends Suarez support
Glen Johnson has hit back at criticism of his support for Luis Suarez from former Manchester United defender Paul McGrath
Last Updated: 23/12/11 9:24am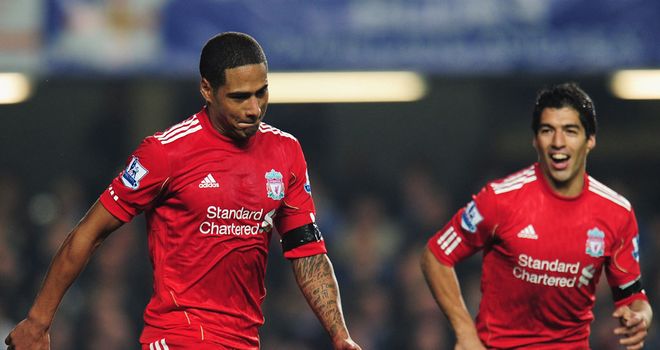 Glen Johnson has hit back at criticism of his support for Luis Suarez after former Manchester United defender Paul McGrath insisted he would have 'thrown his shirt to the floor' rather than don a T-shirt backing the Uruguayan.
Suarez was given an eight-match ban by the Football Association on Tuesday after being found guilty of misconduct for using insulting words to Patrice Evra which included a reference to the Manchester United defender's colour.
Before Liverpool's game at Wigan on Wednesday, the Reds players displayed their support for the 24-year-old by releasing a statement and wearing T-shirts depicting an image of Suarez and his name and number seven.
However, McGrath described those actions as 'shameful' and insists he would never have complied.
He said: "If I was in Glen Johnson's situation, I'd have thrown the shirt to the floor.
"If that had been someone in my time and I'd heard the comments or I'd even suspected he was guilty, and obviously there has been a tribunal, then I would not wear a T-shirt with his name on it, saying all is well and good here.
"There are a lot of children that watch these games and to have done what they did, doing their warm-up in T-shirts with his smiling face on it, having just been done for a supposedly racist comment to one of his opponents, is shameful for football.
"It puts the anti-racism campaign back to the beginning as far as I'm concerned."
Respect
England international Johnson, though, hit back on Twitter, saying: "I will support who I want when I want!!! There are a lot of reasons why I'm standing by Luis Suarez!!!"
McGrath, whose career encompassed a seven-year spell at Aston Villa as well as his time at Old Trafford, believes such actions are symptomatic of the modern game.
He said: "Maybe Kenny [Dalglish] is trying to make a statement to the FA but I just think it is in bad taste that he sent them out in those T-shirts. It would have been much better for Liverpool Football Club if they had worn anti-racism shirts.
"It's about respect. There's this issue going on about respecting your opponents.
"It is actually a game. The game itself has gone too big, it's about winning and the money.
"The actual element of football being a game has long since gone, it is all about protecting your interest, protecting your best players."