Reds warned over Suarez stance
Football Against Racism in Europe has warned Liverpool against appealing Luis Suarez's eight-match ban.
Last Updated: 02/01/12 7:54am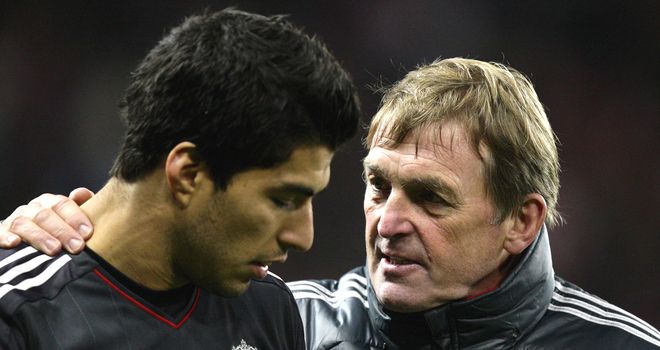 Football Against Racism in Europe has warned Liverpool against appealing Luis Suarez's eight-match ban.
Piara Powar, executive director of the group, says Liverpool risk further damage to their global reputation if they appeal the suspension.
Powar, also a former director of the Kick It Out anti-racism group, believes the Anfield club have already sullied their image because of their stance in support of a player found guilty of racially abusing Manchester United defender Patrice Evra
He said: "Luis Suarez and Liverpool FC have the right to appeal, however we would call on the club to think again about their public campaign to dispute the charges and contest the principles involved in the case.
"As a club with a good international standing, the vehemence of their campaign is unquestionably causing them reputational harm."
The Football Association has published a 115-page report listing the reasons behind the judgment of an independent commission, in which they said Suarez had used the words "negro" or "negros" seven times in a two-minute period of the Anfield clash.
The finding is potentially embarrassing for the Anfield club, who have been unwavering in their support of the 24-year-old Uruguay international, who was also given a £40,000 fine.
The Liverpool players wore T-shirts showing their support for Suarez before last month's game against Wigan the day after he received the ban while manager Kenny Dalglish tweeted that fans should not let him walk alone.
The FA's case, according to the report, was that Evra asked Suarez why he had kicked him, to which the forward replied: "Because you are black." When Evra challenged him to repeat the answer and said he would "punch him", Suarez said: "I don't speak to blacks."
Powar believes racial abuse between players remains an "unspoken taboo" in the English game, and hopes the Suarez case will prove to be a watershed moment.
"The Football Association's published judgment from the Suarez-Evra incident is welcome," Powar said.
"It appears the FA have taken their time to initiate a process that was both fair in its implementation of football rules, and in accordance with the principles of British justice.
"As an international non-governmental organisation we think the investigation and judgment sets the bar for governing bodies globally.
"Racial abuse between players on the field of play has been an unspoken taboo for too long, an area that has been unsatisfactorily dealt with by English football despite many cases over the past 10 years."
Liverpool have been given until January 13 to respond, meaning Suarez will be free to play in their next three games, including their Carling Cup semi-final first-leg trip to Manchester City on January 11.