Taylor - Suarez ban is a lesson
Luis Suarez's ban for racially abusing Patrice Evra serves as a warning that racism will not be tolerated, says Gordon Taylor.
Last Updated: 05/01/12 7:07am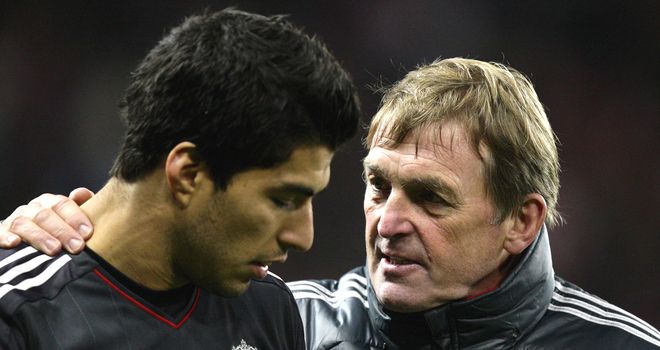 Gordon Taylor feels the eight-match ban handed to Luis Suarez for racially abusing Patrice Evra serves as a warning that racism will not be tolerated in football.
Liverpool have decided not to appeal against the Football Association suspension imposed on their striker for racially abusing Manchester United defender Evra in a Premier League match at Anfield in October.
Professional Footballers Association chief executive Taylor said: "It's a lesson to all of us... that all players coming into our game from different countries understand and accept what we are about - equality and diversity.
Right example
"We have got probably the most multi-cultural game in the world so it's important to set the right example.
"We don't want him (Evra) feeling a victim. We want our black players to feel comfortable that racism can be dealt with in football terms, as well as the law of the land.
"Some issues are bigger than a player, the club or the game and racism is one of those. We have to learn from it and there should be no misunderstanding or ambiguity in the future.
"You don't want such issues to divide clubs or society. We're all in a football family but we're all under the law of the land.
"Once a penalty has been paid and carried out we move on in a positive manner to make sure the penalty acts as a deterrent. The educational process continues."
Taylor is pleased the authorities in this country take the subject of racism more seriously than FIFA president Sepp Blatter, who last year suggested racism on the pitch should be settled by a handshake.
He added on Sky Sports News: "We've treated it a lot more seriously than that.
"Racism is a serious issue. There was a big court case (this week) which proved that and we want sport to set the best possible example.
"I was disappointed after Sepp Blatter's comment but there wasn't the same outcry in the rest of the world.
Inflammatory
"We all know the word 'negro' can be taken to mean a very inflammatory word.
"Any reference to the colour of a person's skin has to be eradicated. In the heat of battle things can be said, but sometimes they go beyond what's acceptable.
"We have had 20 or 30 years of campaigning against racism. I hope we can move on from this and learn our lessons."