Suarez issues limited apology
Liverpool striker Luis Suarez has issued a public apology following his eight-match ban.
Last Updated: 05/01/12 8:28am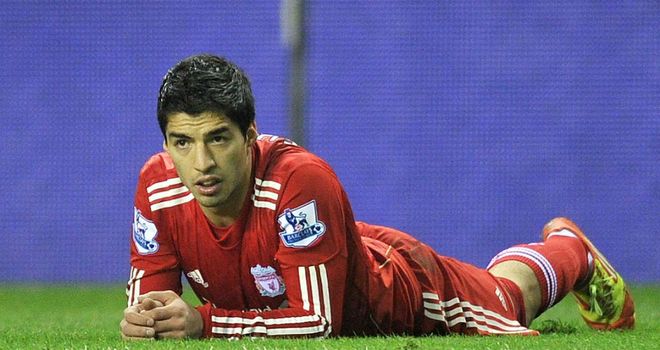 Liverpool striker Luis Suarez has issued a public apology following his eight-match ban for racially abusing Patrice Evra - but has stopped short of saying sorry to the Manchester United defender.
The Reds have decided not to appeal against the Football Association suspension and £40,000 fine imposed on the Uruguay forward for his comments towards Evra.
Suarez said in a statement that he would carry out the suspension "with the resignation of someone who hasn't done anything wrong" as the word 'negro' - which he claims he used "only once" - is a commonly-used word which does not show any lack of respect in his country.
He has now apologised for any offence caused - although not directly to Evra.
Suarez said: "I admitted to the commission that I said a word in Spanish once and only once. I told the panel members that I will not use it again on a football pitch in England.
"I never, ever used this word in a derogatory way and if it offends anyone then I want to apologise for that."
Manager Kenny Dalglish refused to back down in the long-running row over how the situation has been handled and claimed the 115-page report which damned Suarez's evidence failed to mention several salient facts.
He would not elaborate on what those where but insisted he was right to raise the issue.
Professional Footballers' Association chief executive Gordon Taylor, meanwhile, believes the punishment meted out to Suarez sends a warning that racism in the game will not be tolerated.
He said: "It's a lesson to all of us...that all players coming into our game from different countries understand and accept what we are about - equality and diversity.
"We have got probably the most multi-cultural game in the world so it's important to set the right example.
"We don't want him (Evra) feeling a victim. We want our black players to feel comfortable that racism can be dealt with in football terms, as well as the law of the land.
"Some issues are bigger than a player, the club or the game and racism is one of those. We have to learn from it and there should be no misunderstanding or ambiguity in the future."