Dalglish hails Reds' desire
Kenny Dalglish hailed a 'fantastic' effort from his Liverpool players following the FA Cup win over Man Utd and praised both clubs' fans.
Last Updated: 28/01/12 5:50pm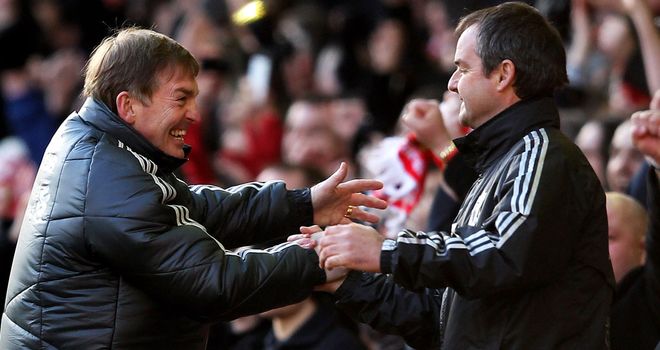 Kenny Dalglish hailed a 'fantastic' effort from his Liverpool players following the FA Cup win over Manchester United and praised both clubs' supporters.
The build-up to the game had been dominated by the fact it was the first meeting between the two clubs since Liverpool striker Luis Suarez was banned for eight games for racially abusing Patrice Evra earlier in the season.
United captain Evra was booed by home supporters every time he touched the ball, however, there were no major flashpoints in the game.
Substitute Dirk Kuyt sent Liverpool into the fifth round following his 88th minute winner after Daniel Agger's header had been cancelled out by Park Ji-sung before half-time.
Fantastic
"It was a fantastic effort from our players after what they had to get through on Wednesday night," said Dalglish after Liverpool had beaten Manchester City on aggregate to reach the Carling Cup final in midweek.
"To ask them to come back and play again on Saturday morning was pushing it a bit too far.
"Their commitment, attitude and desire to get a result was fantastic and we cannot speak highly enough of them after that performance and result today."
Evra was booed throughout by Liverpool fans but other than a few expletive-filled chants and a couple of antagonistic banners nothing untoward happened inside the ground.
"I think both sets of fans were a magnificent advert for their clubs," added Dalglish.
"Both clubs can be very proud of the fans they have here. There was a good bit of banter between both fans, which is brilliant because you don't want to take that away.
"I think in the main they were fantastic and the players were a credit to that because none of them tried to do anything other than play football.
"They (United fans) will be disappointed at losing but they deserve credit for contributing to the occasion.
"That is what the players did and the fans did; the fans are entitled to support their team, absolutely no problem.
"I don't think there was anything there that was untowards."