Kelly welcomes Suarez return
Young defender Martin Kelly expects Luis Suarez's return to lift Liverpool as they prepare for a tough run of games.
Last Updated: 07/02/12 11:18am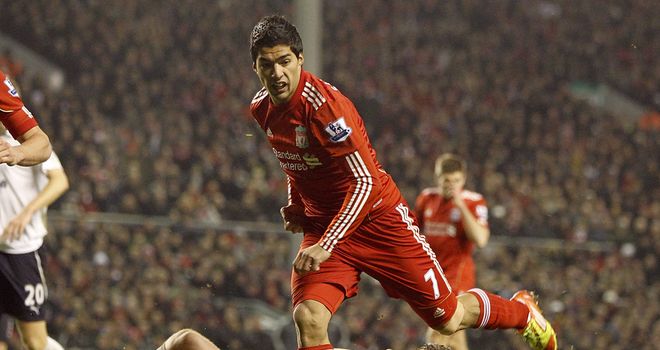 Young defender Martin Kelly expects Luis Suarez's return to lift Liverpool as they prepare for a tough run of games.
The Uruguay striker made his first appearance since serving an eight-match ban for racially abusing Manchester United's Patrice Evra in Monday night's goalless draw with Tottenham.
Suarez received a rapturous reception from the Anfield faithful after coming on as a second-half substitute against Spurs.
Boost
Kelly feels the forward will give the Reds the boost they need heading into this weekend's blockbuster clash with Manchester United, as well as their Carling Cup final at Cardiff at the end of the month.
"The crowd gave us a lift when they saw Luis coming on and it's fantastic to have him back," he told Liverpool's official website.
"He'll be a big help for us over the next few weeks when we've got big games coming up and he'll be there ready for the (Carling Cup) final."
Despite the goalless scoreline, Kelly feels Liverpool can take plenty of positives from Monday night's display when they head to Old Trafford at the weekend.
"We had our chances and could have closed the game off and got the three points, but it wasn't to be," added the full-back, who made his first league start since October against Spurs.
"We defended well. You have to give Tottenham respect because they are a great side, but I think we had the better chances.
"Especially in the second half, we created quite a few chances but that's just football sometimes. They defended well and it wasn't our night.
"But now we've got to look forward to the next game which is a massive one on Saturday against Manchester United."
He added: "It was one of those nights, but we can take positives from it - we've got Luis back now and Andy Carroll won every header and was fantastic. We've got to take that into the United game and try to get a result there."
Focus
The Reds remain in contention for a top-four Premier League finish but Kelly is adamant they are looking no further ahead than their next game.
"We concentrate on each game as it comes," he said.
"We've got a point against Spurs and now we'll look at the next game and try and get three points there.
"We'll take each game as they come, that's how we do it at this club. We'll see where we are at the end of the season."