Gerrard to consider future
Steven Gerrard has revealed he will consider quitting England after this summer's Euros in order to prolong his career at Liverpool.
Last Updated: 26/02/12 3:02pm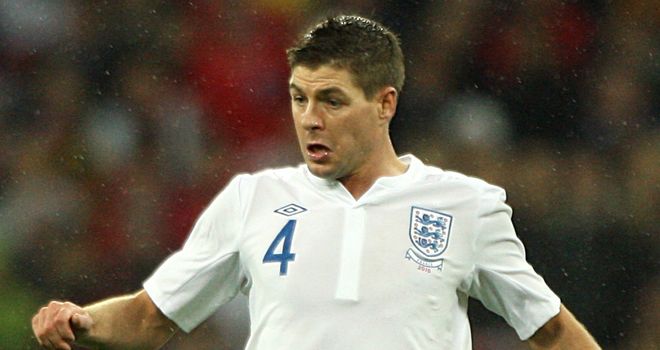 Steven Gerrard has revealed he will consider quitting England after this summer's European Championship in order to prolong his career at Liverpool.
The midfielder, who will lead the Reds out against Cardiff in the Carling Cup final on Sunday, has recently returned to fitness having been plagued by injury over the last two years.
The Liverpool captain knows choosing between club and country would be an agonising decision, but says calling time on his England career might be the only way to ensure his long-term future at Anfield.
Future
Gerrard, who will turn 32 in May, told The People: "It's something I am going to have to sit down and think about after the Euros this summer.
"I've not spoken to anybody about it yet, nor have I made any decision about what I might do because there are a lot of things to consider.
"I'm just fully focused on doing as well as I can for Liverpool this season and then playing in the Euros for England. After that we will see what happens.
"First and foremost is that I love playing for England and to captain your country is the pinnacle for any player so that makes me proud.
"And I want to make this clear, when I do decide to stop playing international football it would never be because I don't want to play for my country - it would never be because of that.
"But I am aware of the future, the injuries I've had and I want to play for Liverpool as long as I can. I also know that there are quite a few players who have stopped playing international football to prolong their club careers and it's helped them to do that.
"I can understand why people might think that kind of a decision is approaching and I've spoken to my surgeon and the medical people but, like I say, I've not made any decisions because there is no need yet."
Gerrard captained England at the 2010 World Cup and is likely to be given the armband again by stand-in boss Stuart Pearce for Wednesday's friendly with Holland at Wembley.
The midfielder has notched up 89 caps for his country and admits the prospect of breaking the 100 barrier is tempting - providing he features under whoever the Football Association appoint as manager, with Tottenham boss Harry Redknapp a hot favourite for the job.
Milestone
He said: "I'm on 89 caps at the moment so, if I'm fit and playing, with some friendly games to come and a decent tournament at the Euros, I could be in the mid-90s by the end of the summer.
"That would put me close to 100 caps which is an incredible milestone for any player.
"But that's out of my hands. It also depends on whether the new manager, whether it's Harry Redknapp or someone else, would want me after the Euros."