Dalglish confident over semi date
Kenny Dalglish is confident Liverpool's Wembley FA Cup semi-final will not clash with the anniversary of the Hillsborough disaster.
Last Updated: 18/03/12 9:31pm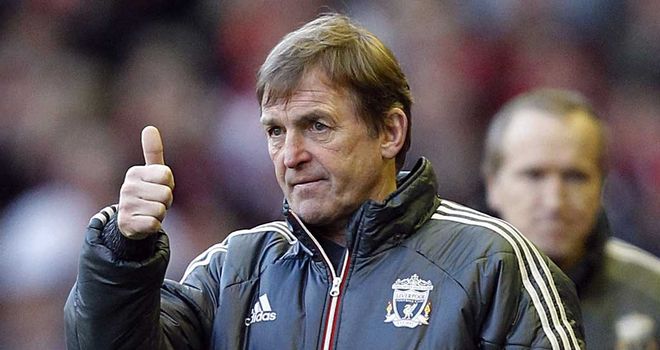 Kenny Dalglish is confident the FA will ensure Liverpool's Wembley FA Cup semi-final will not clash with the anniversary of the Hillsborough disaster.
The Reds booked their place in the last four with a 2-1 win over Stoke at Anfield and the games are scheduled to be played on the weekend of April 14 and 15, the latter date being exactly 23 years since the death of 96 fans at the Sheffield ground.
Liverpool have always had special dispensation to avoid matches on that date and it is believed the club have already contacted the FA to remind them of the significance of that date.
"We won't play on the 15th. The FA and UEFA have always been exemplary and very supportive, and that's great credit to them," said Dalglish, whose side could face Everton if they come through their replay at Sunderland.
"I don't think it's even worth a line in a paper that we might play on the 15th because we won't.
"We've never played on the 15th before, have we? So there you are. Why would they change now?"
Difficult
Dalglish will take his side back to the national stadium less than two months after their last visit when they lifted the Carling Cup following a penalty shoot-out win over Cardiff City.
Stewart Downing's second-half strike settled the contest in a tight affair at Anfield after Peter Crouch cancelled out Luis Suarez's opener for the home side.
"It was as difficult as I expected. They started really competitively at a high tempo for first 20 to 30 minutes and we had to match them," he continued.
"Pepe Reina was not too busy but they are always a threat from set-pieces and throws.
"I think it was a fantastic performance in many ways for us. It was not the best in terms of how we passed the ball but the way we competed and put our bodies on the line set an example for everyone.
"It shows what it meant to them to get through this tie.
"We scored two really good goals from Luis and Stewart which just got us over the line."
Incentive
Dalglish did not think having been to Wembley already this season made any difference to his team's desire to return.
"It is the same incentive for everyone to get to Wembley," he said.
"Although we have been there already this season we weren't any less hungry for it.
"We know we play Everton or Sunderland but whoever we get is going to be a difficult game.
"Merseyside will be hoping Everton get through and they can all have a day out again but it is a real difficult place to go and get a result at Sunderland.
"But that is not our problem - that is theirs to sort out."