Carragher defends Dalglish
Liverpool stalwart Jamie Carragher has called for Kenny Dalglish to be given more time to turn around the club's fortunes.
Last Updated: 01/04/12 10:34am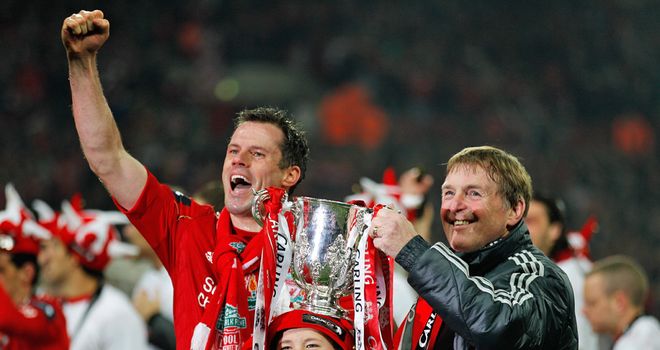 Liverpool stalwart Jamie Carragher has called for Kenny Dalglish to be given more time to turn around the club's fortunes.
Dalglish's position at Anfield has come under scrutiny after a run of five defeats in six Premier League games leaving the side in eighth spot in the table.
Carragher has issued a rallying call, claiming it is a work in progress at Anfield as the club were "on their knees" when Dalglish replaced Roy Hodgson last January.
"People need to remember where we were when Kenny took over again as manager," Carragher told the Sunday Telegraph.
On their knees
"The club were on their knees. We'd gone through a difficult period and found ourselves in a poor position in the league. Kenny took over and it wasn't just that he gave everyone a lift in terms of his presence around the club, but most importantly with performances and results.
"Everyone knew this season was all about rebuilding the team and bringing a lot of new playing staff to make an improvement. Winning our first trophy in six years was a sign of that. It was a massive achievement for everyone at the club. We're still in the FA Cup so it could get better.
"We all recognise we've come up short in the league compared to where we'd like to be - because we wanted to be closer to the top four - but considering there's been a lot of change it was always going to be difficult given the established sides we were up against. We were just starting the process again so you can't just expect it happen immediately.
"He's the one here who knows what it means to win a league title and what we've got to do going forward.
"There isn't anyone else here with experience of winning a league title. It's ridiculous anyone would dismiss his experience and achievements in the game when he's started getting Liverpool winning trophies again already. "
Carragher also defended the likes of Andy Carroll, Jordan Henderson and Stewart Downing, who have all failed to live up to expectations at Anfield and hopes they can improve next season.
"As a group of players, we need to improve and it's not fair just talking about the new ones," added Carragher.
"Maybe we need a couple new players next season to push us on, and we hope the players we bought this season will then go on to another level after a year's experience playing for the club.
"It's not easy learning what it means to play for Liverpool. There's far more additional expectation and pressure here."