Carroll - Best feeling ever
Andy Carroll revelled in Liverpool's FA Cup semi-final success after heading the Reds to a 2-1 victory over Everton at Wembley.
Last Updated: 15/04/12 7:51am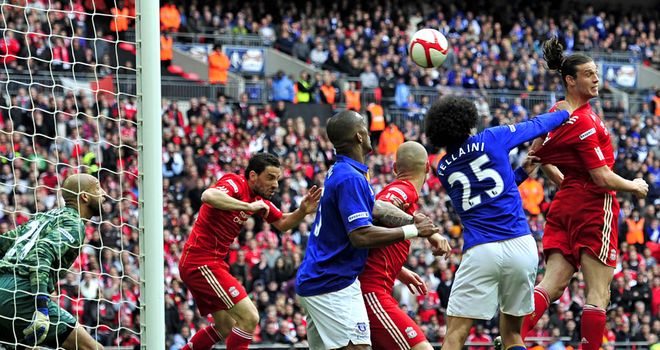 Andy Carroll revelled in Liverpool's FA Cup semi-final success after heading the Reds to a 2-1 victory over Merseyside rivals Everton at Wembley.
The former Newcastle striker has faced frequent criticism this season and endured another frustrating afternoon before scoring the winner in the 87th minute from Craig Bellamy's free-kick.
Nikica Jelavic's opener for Everton had earlier been equalised by Luis Suarez, and Carroll could not contain his excitement after the final whistle at playing such an important part in a vital win.
"It's the best feeling ever," he told ESPN. "We worked hard and getting the goal right there at the end was great.
"I had a few chances and should have probably scored earlier.
"But I kept at it and it was a great ball in by Craig, and I just had to score with that one and I did.
"It's a great feeling. I've had some criticism but I've just kept on going. I get the winner here and it's a great feeling. I believe in myself every day."
Carragher relief
Jamie Carragher also expressed his delight after seeing Liverpool set up a final meeting with Tottenham or Chelsea, who contest the second semi on Sunday.
Asked for his emotions, Carragher said: "Relief really. Liverpool losing to Everton in the semi-final - it would have been a nightmare."
Carragher was particularly pleased with the outcome after being involved in the defensive mix-up with Daniel Agger that led to the Toffees' opener.
"Just relief that the lads went up the other end and showed what Liverpool is all about," he said.
"Everyone wanted Everton to win. (Everton manager) David Moyes said the whole country was with them. Well, we showed we're a special club, special fans. Not many teams can come back. We've done it again. We've got that ability to come back."
Jones joy
Carragher and goalkeeper Brad Jones were both quick to praise the strike-force, particularly Carroll after his second crucial late winning goal this week.
"He'll be remembered forever for that," the former England international added.
"And Suarez I wouldn't swap for any other player in the league."
Australian goalkeeper Jones said of Carroll: "The media knock him but he's a fantastic guy. He works hard, does extra training and deserved this goal at Wembley.
"We knew they've got a lot of quality players and we had to deal with it and I think the boys at the back dealt with it well. I didn't really have a lot to do.
"At half-time we knew we had to step up a gear. We were confident but knew we had to put the work in."