Dalglish future still unclear
Uncertainty remains around the future of Kenny Dalglish after he returned from his meeting with Liverpool's hierarchy in the USA.
Last Updated: 15/05/12 6:39pm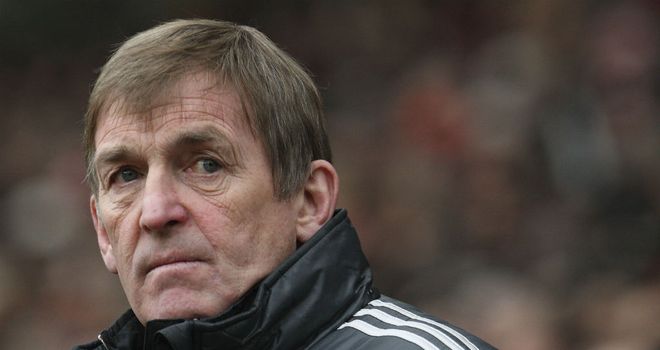 The future of Liverpool manager Kenny Dalglish remains unclear after he returned from his meeting with the club's hierarchy in the United States.
It is understood the Scot flew back to Britain on Tuesday after meeting principal owner John Henry and chairman Tom Werner amid a growing crescendo of rumours.
Speculation reached fever pitch on internet and social networking sites around late morning, with unsubstantiated claims ranging from him being sacked to resigning.
With no statement forthcoming from either Fenway Sports Group (FSG) or the club, the rumour mill ran wild, although it gradually subsided the longer time went by with no announcement.
Restructuring
Without a public show of support from FSG, Dalglish's position will remain a subject for debate even though just more than a month ago Werner stated they had "great confidence in Kenny and he enjoys our full support".
Since then, results have not improved as Liverpool won just two league matches out of five and lost the FA Cup final to Chelsea.
But there has perhaps been too much being read into his trip to America, fed no doubt by FSG's restructuring at the club has already led to the departure of director of football Damien Comolli, head of sports science Peter Brukner and head of communications Ian Cotton in the last month.
Dalglish, along with coach Steve Clarke, flew out after Sunday's defeat by Swansea to present their view of what has been a disappointing season.
Transfer windows
It was always designed to be part of the review process, which Dalglish had admitted some weeks before required him to provide a detailed report of his assessment of the last 10 months and his thoughts on plans going forward.
After a 14th loss of the league campaign, Liverpool's eighth-placed finish in the Premier League was their worst for 18 years and a points tally of 52 their lowest since 1953/54.
It will have left Dalglish and Clarke to answer some testing questions from Henry and Werner about what progress was being made with their investment, having spent more than £200million to buy the club in October 2010 and then heavily backed their manager in subsequent transfer windows.
After their meeting on Monday, Dalglish made plans to return home, which partly explains why he was not pictured alongside Clarke, Henry and Werner at a baseball match between the Boston Red Sox - FSG's other marquee investment - and the Seattle Mariners.
The Reds boss still has two years to run on the contract he was given by FSG just more than 12 months ago and only last week he spoke about planning for the new season in August.