Martinez offered Liverpool job
Roberto Martinez has been offered the chance to manage Liverpool according to Wigan chairman Dave Whelan.
Last Updated: 25/05/12 6:03pm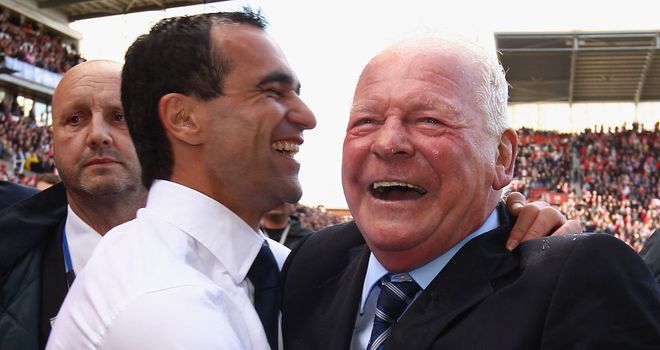 Roberto Martinez has been offered the chance to manage Liverpool according to Wigan chairman Dave Whelan.
Wigan boss Martinez was in Miami on Thursday for talks with Reds owner JW Henry about succeeding Kenny Dalglish as manager of the Anfield club.
Whelan has confirmed that Liverpool have made an offer to his manager and a decision will be made within the next week.
The only sticking point would appear to be whether Martinez will be given the level of control he demands.
"I have just spoken to Roberto," Whelan told Sky Sports News on Friday. "He went yesterday to Miami and had a very constructive meeting with the owner of Liverpool.
"They're going to talk again on Tuesday. They've made Roberto an offer and he has agreed to consider it.
"He is also aware that I have said 'I'd love to keep you but I need a decision by Wednesday or Thursday of next week'.
"If we lose him we've got to move and appoint someone for Wigan Athletic.
"In the meeting I think they've made him an offer and he's said 'what are my responsibilities'.
"These are American owners and the rules and regulations are a bit different from what we English set down.
"Roberto is a seven days a week, 12 hours a day worker and I don't know whether they realise how hard he works.
"He has rules and regulations to be fully in charge of football and I know he won't move anywhere unless he is fully in charge of the football.
Consideration
"I think he's considering it and I think he'll give it fair consideration."
Asked to clarify whether Martinez is set to become Liverpool's new manager, Whelan added: "I couldn't say that 100% for sure. They have made him an offer, I don't know what that offer is.
"I think he has said thank you for the offer but I only work when I have complete control of football.
"But he's having another meeting with them on Tuesday when he says a decision will be made."
"If he goes to Liverpool we will wish him good luck and get on with the business."
Asked if this meant Wigan are now actively seeking a new manager, Whelan said: "I would never do that until Roberto says one thing or the other. I want desperately to keep Roberto.
"I have said I would like to know one way or the other by next Thursday."