Rodgers - I was No.1 target
Brendan Rodgers insists he was the first choice for Liverpool in their search for a new manager.
Last Updated: 01/06/12 10:36am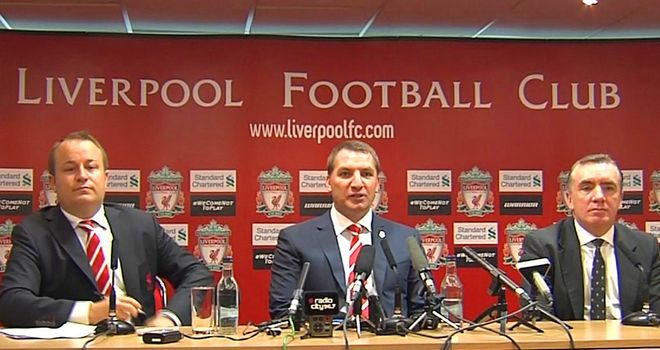 Brendan Rodgers insists he was the first choice for Liverpool in their search for a new manager.
The Northern Irishman is set to be unveiled on Friday after Liverpool agreed a deal with Swansea for his services.
Wigan chairman Dave Whelan has claimed Rodgers was not top of the list to succeed Kenny Dalglish, with the Reds holding talks with Latics boss Roberto Martinez prior to the appointment of Rodgers.
Rodgers initially turned down an approach from Liverpool before it became clear he was their preferred target.
"I turned them down once out of respect, because I didn't want to go into a process and disrespect anything about Swansea," Rodgers told the South Wales Evening Post.
"When they come in a second time and make you their No.1 target, then you have to think.
"We have seen over a number of years that the number of British coaches who get a chance at the big clubs is very few.
"When those opportunities come, and they may come only once, you have got to make a decision."
Dynasty
Rodgers admits the chance to take charge of footballing "dynasty" like Liverpool was too good to turn down.
"For me, the only way I was going to leave Swansea was for a big club, and I mean a big club," added Rodgers.
"It was an extremely, extremely difficult decision because my plan was always to stay here at Swansea for a number of years.
"I have always been up front and honest. I have always said that I wouldn't be here forever and that one day I would go, but I honestly never thought the opportunity would come round now.
"In my life and in my football, I have been very happy in Swansea.
"But when an opportunity to work at a club which is more than a club comes round, it's a professional challenge which is too good to turn down.
"Liverpool are one of the dynasties of the game. They have won five European Cups and their status is up there with AC Milan, Inter Milan, Barcelona, Real Madrid and Bayern Munich."