Referee Mark Halsey subjected to Twitter abuse after Liverpool's defeat by Manchester United
Referee Mark Halsey was the victim of Twitter abuse following the match between Liverpool and Manchester United.
Last Updated: 16/09/13 9:12am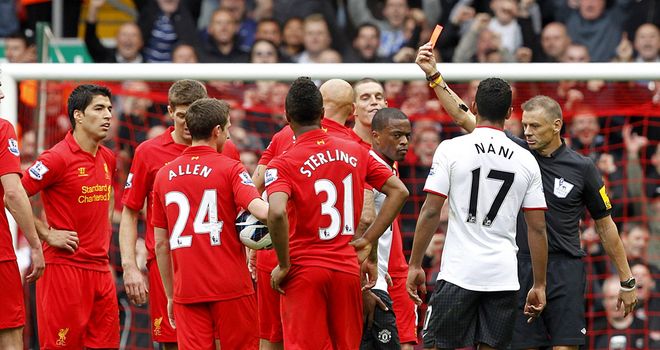 Halsey, who was diagnosed with throat cancer in 2009 but returned to refereeing in March 2010, sent off Liverpool midfielder Jonjo Shelvey for a challenge on United defender Jonny Evans.
He later awarded a late penalty to United which Robin van Persie converted to seal a 2-1 win.
A tweet posted from an account named @johnwareing1 read: "I hope Mark Halsey gets cancer again and dies" while another from @lfcjohn259 read: "Mark Halsey should've died of cancer."
Both tweets were met with outrage from other users of the social media site.
The post from @lfcjohn259 was deleted and the @johnwareing1 account was removed completely.
The Premier League was not immediately available for comment on the matter.