Referee Mark Halsey has made a complaint to police over abuse on Twitter
Premier League referee Mark Halsey has made a complaint to Greater Manchester Police after receiving abusive tweets.
Last Updated: 25/09/12 7:38am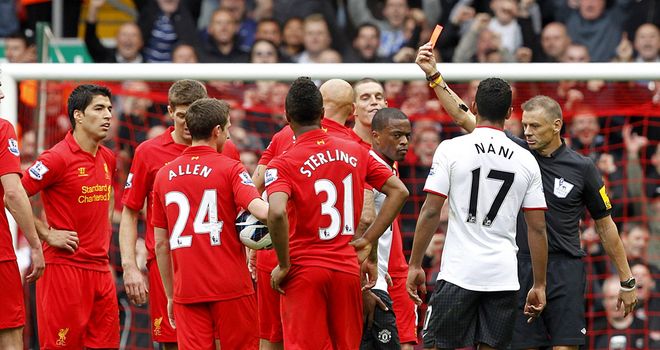 Halsey received the insulting messages on the social networking site Twitter after taking charge of Liverpool's contentious 2-1 defeat by Manchester United at Anfield.
The 51-year-old, who suffered from throat cancer in 2009, was at the centre of several debatable decisions, sending off Reds midfielder Jonjo Shelvey before awarding United a penalty.
And Halsey has asked the police to investigate the subsequent messages, a Professional Game Match Officials Limited (PGMOL) spokesman has confirmed.
The abusive tweets come just days after the Director of Public Prosecutions said new guidelines for prosecutors on social media cases will be issued in the wake of a number of growing complaints.
Last week a Welsh Premier League footballer who posted an abusive message about Olympic diver Tom Daley was not charged because the message was "not so grossly offensive that criminal charges need to be brought", Keir Starmer said.
But Mr Starmer, the most senior prosecutor in England and Wales, added: "The time has come for an informed debate about the boundaries of free speech in an age of social media."
The two tweets sent out by furious Liverpool supporters following the game were met with outrage from other Twitter users.
One post, from an account named @johnwareing1, read: "I hope Mark Halsey gets cancer again and dies" while another from @lfcjohn259 read: "Mark Halsey should've died of cancer."
The national secretary of Prospect, Alan Leighton, has expressed his trade union's disgust regarding the tweets.
His statement read: "Prospect wholeheartedly condemns the unacceptable abuse aimed at Mark Halsey on Twitter. The comments made by a very small minority will be seen as beneath contempt by all decent people.
"The main concern now is for Mark and his family, who are receiving the support of his employer, PGMOL. Prospect will also provide any assistance as required."
The abusive Twitter users were also condemned by PGMO, which provides referees to the Premier League, offering support to Halsey if and when it is required.
Their statement read: "PGMO abhors any abuse of match officials whether that is in stadia or outside of it.
"Our main concern is towards Mark and his family, and as with all match officials, there is a backroom team who are there for them.
"This includes a sports psychologist, who has worked extensively with the Select Group including Mark over the past few years.
"Mark has already benefited from the support of all of his Select Group colleagues and they will continue to back him this week.
"None of the Select Group match officials are on social media."