Brendan Rodgers wants shot-shy Liverpool to develop killer instinct in front of goal
Brendan Rodgers has urged shot-shy Liverpool to show a killer instinct until he can bring in a goalscorer in January.
Last Updated: 24/09/12 9:25pm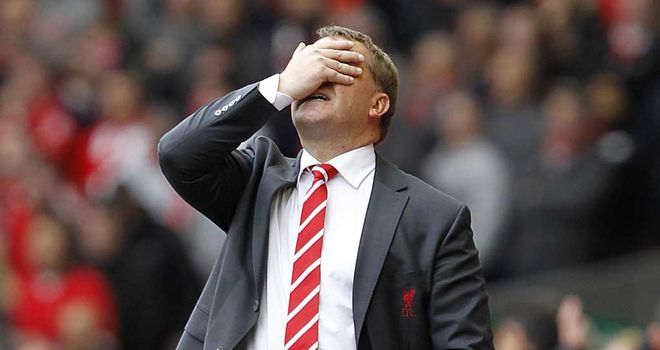 Since taking over from Kenny Dalglish in the summer, the Northern Irishman has been working on getting his squad adapted to a game-plan based around lots of possession.
In probably their best display so far, the Reds dominated Sunday's home match against Manchester United, even after Jonjo Shelvey was sent off before half-time, but ended up losing 2-1 having not taken advantage of their control.
Rodgers wants his players to threaten the goal more, especially as they have scored four times in five Premier League matches, but is happy with the way everything else is developing despite his side being in the bottom three.
"I said to them at half-time we have to be effective as well," said Rodgers, who is currently working to bring in a goalscorer to fit into his system in January.
"We have to hit the target. There is no point us getting into good areas in the field and twisting and turning and being bright if we don't shoot.
Control and domination
"You have to shoot otherwise you don't score - that is something we know across the board we need to improve on.
"There's no reticence to shoot but it is in the DNA of the player, the type of player. That is what we hoped we could bring in over the summer and we weren't able to do that.
"So we've got to go with what we've got until January and you bring in the certain type of player who can help that."
Despite the defeat to United, Rodgers believes the United match provided a watershed moment in his short tenure as Reds boss.
"I think we have seen enough in the team to see the improvement and the biggest thing for me to come out now is that control and domination," he added.
"We really dominated and controlled the ball against United, a top, experienced side, so for me that is a big moment from when I first came in."