Decisions go against us says Brendan Rodgers as Liverpool boss speaks to referees' chief
Liverpool boss Brendan Rodgers has spoken to referees' chief Mike Riley about decisions going against his team.
Last Updated: 27/09/12 3:42pm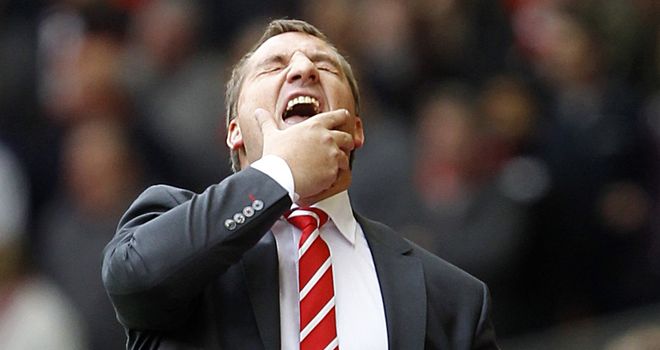 The Reds boss feels his side, who are yet to win in the Premier League this season, have been on the end of a number of unfair decisions over the opening weeks of the campaign.
Sunday's 2-1 defeat to Manchester United at Anfield saw Jonjo Shelvey sent off, while a penalty was also given against Liverpool but they were denied their own when Luis Suarez went down in the area.
Rodgers was also unhappy with some of the decisions in Wednesday's 2-1 Capital One Cup win at West Brom and says he has contacted Riley to voice his frustration.
He told Sky Sports: "The opening period of this season, we haven't had any rub of the green whatsoever from officials.
"I rang Mike Riley this morning. I think he was actually expecting me to comment a bit earlier.
"I just said to Mike, we have to be careful that we don't discourage people and players who are trying to respect the game. We want to win the game but we want to win it by fair means."
The manager added: "The players have been outstanding in their work. But us being a sporting team and going by the letters of the law and the rules, it just seems to pass us by in terms of decisions.
"We've had a few sendings-off, a few penalties given against us and absolutely nothing that we've been given at all."
Decisions
"So I hope that changes. Injuries and what-not, you can't control those sorts of things, but certainly decisions you'd hope we get better decisions in the next coming weeks.
"That's the thing I'll certainly be looking for over the next number of weeks, is a wee bit of good fortune in terms of some of the decisions that we've got."
Rodgers was left particularly aggrieved by incidents involving Jordan Henderson and young defender Andre Wisdom at The Hawthorns on Wednesday night.
"It's just become quite obvious, especially after last night's game," he added.
"Jordan Henderson had a horrendous challenge in the game last night and the player wasn't even booked.
"One of my young players, Andre Wisdom made a really good tackle, and won the ball and got booked for it. There's been a number of incidents."