Liverpool striker Luis Suarez has leapt to the defence of Premier League referees
Luis Suarez is trying to remain philosophical about the refereeing decisions that have gone against Liverpool.
Last Updated: 28/09/12 10:26am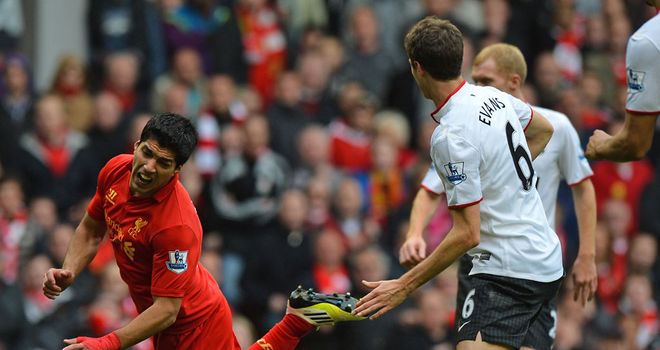 Brendan Rodgers revealed on Thursday that he had voiced his concerns to referees' chief Mike Riley about what the Reds manager sees as a number of unfair judgements in the opening weeks of the season.
In particular, he referenced legitimate penalty claims by Suarez which had been turned down with, on one occasion, the Uruguay international being booked for diving.
But Suarez said: "There are times when the referee gets it right and others when he doesn't but that's all part and parcel of the game.
"It's happened in the last few games, like against Manchester United when the penalty shout on me wasn't given and then the one on (Antonio) Valencia was.
"But talking about it doesn't solve anything - the referee has a split second to see an incident. Let's just hope that it doesn't happen again in the future."
Those poor decisions have contributed to a slow start to the season which has yielded just four goals in five league games and sees the Reds languishing in the relegation places.
But Suarez insists that with some tough early fixtures out of the way, the Reds are now well-placed to start picking up some victories.
"It makes it more difficult when your opening fixtures of the season are against strong teams like Arsenal, Manchester City and Manchester United - they are not easy games," he told the official Liverpool website.
"At the moment, we are not in the position where Liverpool Football Club has to be, which is battling it out at the top end of the league.
"But we've been a bit unlucky and I still believe - and will continue to believe - that we have a lot of quality here and a manager who is giving everyone the confidence to believe in their opportunities."