Brendan Rodgers praised Liverpool's first Premier League win of the season after a 5-2 win at Norwich City
Liverpool boss Brendan Rodgers was unstinting in his praise for his players after a 5-2 victory over Norwich City.
Last Updated: 30/09/12 10:39am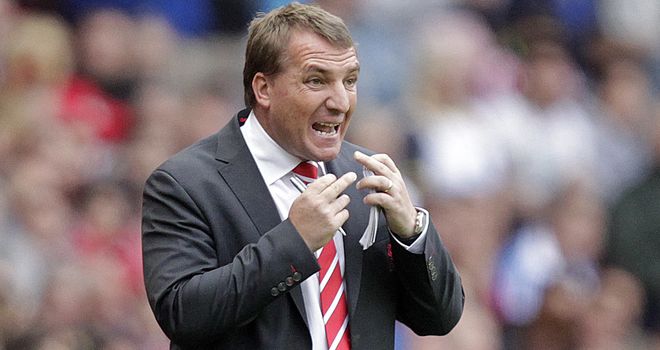 Liverpool were inspired by Luis Suarez's second hat-trick at Carrow Road in as many seasons, with the Uruguayan earning special praise from his manager.
Suarez was in the thick of the action all afternoon, with his treble the game's highlight, but in a week in which Rodgers has claimed his side have been given a rough deal by referees this season a clear foul on Suarez in Norwich's box that failed to yield a penalty disappointed the Ulsterman.
"The team first and foremost is the star but individually of course to score another hat-trick here is something. They were wonderful goals as well," Rodgers told Sky Sports.
"He's a wonderful talent and was unfortunate today as he should have had a penalty as well but as I said in the week, he doesn't get anything in games.
"There's no doubt he (Suarez) doesn't get the verdicts that he should. If Antonio Valencia's was a penalty last week with barely any contact then Suarez's was certainly one today.
"It's unfortunate because he's a real good guy but overall the team were magnificent. But we didn't get it and I thought the referee had a good game today."
Rodgers was keen to emphasise that it was a team performance that secured a first league victory of what has been a difficult start to his tenure at Liverpool.
"It was fantastic. Norwich are a set of real good lads who work hard for what they've got and I knew how tough a game it would be but the plaudits obviously go to the Liverpool team today," Rodgers told Sky Sports.
"I thought we were fantastic - we scored five goals and could have had a couple more.
"Overall the performance and the goals were superb. Not just that though the work-rate and tempo were excellent. A good day all round."