Liverpool manager Brendan Rodgers is not sure why his side's recent home record has been poor
Brendan Rodgers says there is no 'psychological' problem with his Liverpool players at home despite their poor record.
Last Updated: 07/10/12 7:49am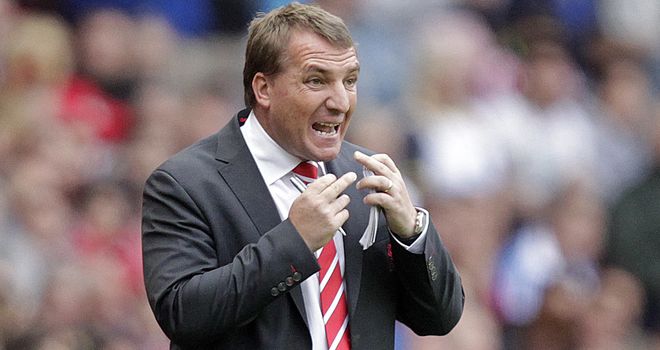 Thursday's 3-2 UEFA Europa League defeat to Udinese means the Reds have now gone five games in all competitions without a win on their own turf, with their only victory there this term coming in a qualifier for the continental tournament against Belarusian outfit FC Gomel.
Liverpool also struggled at Anfield last season under Rodgers' predecessor Kenny Dalglish, taking maximum points in just six of their 19 home Premier League matches.
Speaking ahead of today's home clash against Stoke, Rodgers said: "Sometimes it is just a confidence factor, and you also have to imagine that when any team comes to Anfield, it is one of the biggest games of the (visiting) players' lives.
"Playing at home is certainly not a distraction. I think to play at Anfield is a real honour and a privilege and the support we get from the crowd is incredible.
"The backing we get every time we play there is fantastic, so it is just one of those statistics there is no explanation for.
"What you have to do is just try to work very hard.
"We have performed well there this season - in the Europa League (qualifying) game we have won, and we have come close in a number of the Premier League games and should have won.
"Obviously it overspills into last season as well, but psychologically, there is nothing there for me (in terms of a problem).
He added: "We have just got to get the results - hopefully we can get some wins there and perform well for the rest of the season."