Brendan Rodgers thanks fans for sticking by Liverpool despite poor Anfield form
Liverpool boss Brendan Rodgers admits he is grateful that fans have not turned on his under-performing side at home.
Last Updated: 20/10/12 2:07pm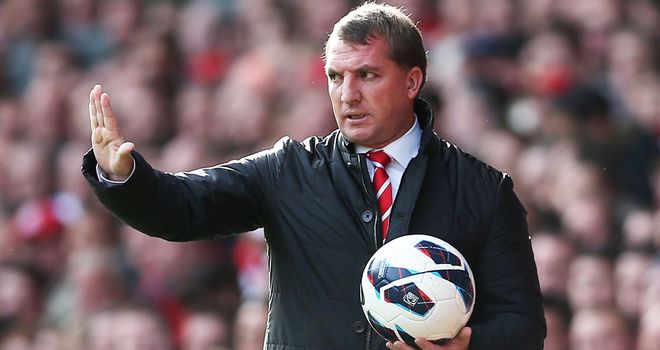 The Reds have only won twice at home in 2012, the last of those coming in May, but Rodgers expects them to kick on once they end that run, which he hopes happens against former club Reading on Saturday.
"When you look at the majority of our home games our performance level has been good and we've been unfortunate not to pick up a result," Rodgers said.
"Our biggest focus now is just to get some consistency in our results.
"The reality in 2012 is we have won two league games at Anfield and, on top of that, it is over a year since there has been back-to-back Premier League (home) wins.
"Thankfully within the ground the supporters are fantastic, when you think of that record. If you came to Anfield and you see how supportive the fans are it is absolutely phenomenal really.
"The big drive and our only focus is looking to get consistency in our results and then we can move forward. It is up to us, there is only the group of players and ourselves who can change that.
"We have to focus on what we can control, go into the game with a clear, defined plan and if it's not working then be flexible in terms of looking to put that right.
"Once we get that result then hopefully we can fly from there. We really want to make our home ground a fortress."
Rodgers looks back on his time with the Royals fondly, even taking into account the six months from the summer of 2009 when he won just six of 23 games and departed before the year ended.
He added: "Reading are an excellent club. I first went to them when I was 13 and they played a big part of my life.
"I was fortunate to get the managerial job but it did not quite work out how I would have wished. But I learned from the experience and ultimately that will pave the way for me.
"It proved to be a difficult six months, especially with what I was trying to implement which was always going to need that bit of extra time.
"But I came away from that and learned from the experience and reflected upon it. It prepared me going forward and I was able to take those things into the rest of my career.
"It allowed me to be much more clinical in my work when I arrived at Swansea, and thankfully it's gone quite well from there."