Kenny Dalglish says Liverpool were not instructed to wear Luis Suarez T-shirts
Kenny Dalglish recognises Liverpool wearing Luis Suarez T-shirts 'might not have been right' but it was not his order.
Last Updated: 01/11/12 3:15pm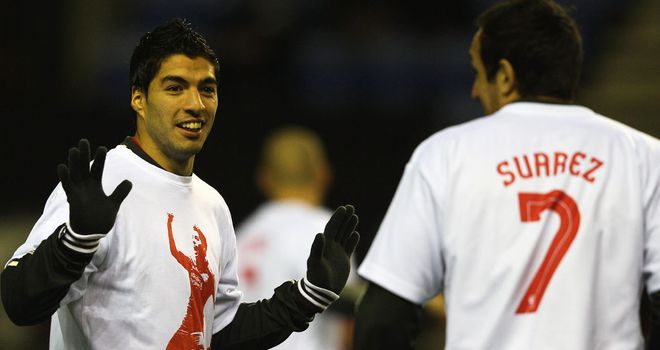 The Anfield club caused mass controversy last December by making the statement of support for the Uruguayan prior to their Premier League game at Wigan Athletic.
Suarez had just been found guilty by the Football Association of racially abusing Manchester United's Patrice Evra and so the T-shirts were interpreted by some as displaying complacency towards discrimination.
Dalglish, who also wore a T-shirt, was manager at the time but he is adamant his players were not acting under his instructions and admits the protest could have been a mistake.
He told talkSPORT: "I didn't send them out in the T-shirts. The boys decided themselves. You can't tell me they wouldn't have done that if they didn't believe in him (Suarez) and didn't have respect for him.
"It might not have been right but it wasn't me that decided it. A lot of things are misinterpreted and misrepresented.
"I was brought up to be respectful and tell the truth, and what I believed to be the truth is what I said. I can't be any different in that."
Dalglish was sacked this summer and the Suarez controversy was thought to have been a factor in his dismissal, although that has always been denied.
But the Scot does admit if the Suarez situation presented itself again, he would handle things in an alternative manner.
Dalglish said: "I would do things differently. I would be less helpful and less forthcoming and that's sad. There's no place for racism in football in any way, shape or form."
Racism remains a major topic after several incidents over the past year and Dalglish wants the FA and the justice system to adopt the same laws if football is to clear itself of prejudice.
Dalglish said: "They (The FA) have got to get closer to the laws of the land. You can't go to an FA tribunal where you are judged on the basis of probability and then go to a court of the land and you are judged beyond reasonable doubt."