Newcaste's Jonas Gutierrez has come to the defence of Liverpool striker Luis Suarez
Jonas Gutierrez has come to the defence of Luis Suarez over his constant simulation.
Last Updated: 03/11/12 12:04pm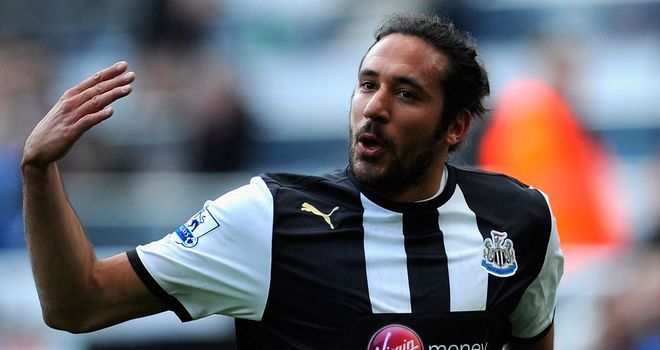 The Newcastle and Argentina winger is preparing to take on his fellow South American as Alan Pardew's side go in search of their first win at Anfield for 18 years.
And Gutierrez is only too aware of what Everton boss David Moyes and Stoke's Tony Pulis have said about Suarez in recent weeks but still remains a huge fan of the Uruguayan.
He said: "He's someone I know, and I realise Suarez upsets some people - he's done a few things that players and others don't like too much.
"He does a lot of things that make people talk about him and not about his football, but I'd rather talk about what kind of player he is.
"He's so excitable, I don't know whether that's a particularly South American trait, but when you see a referee make a decision against him, he's always upset.
"We know that he's a really difficult striker to handle, and his work-rate is up there with the best, so we know we'll have a tough time keeping an eye on him."
One direction
Gutierrez is hopeful the Magpies can end a 17-game winless streak at Anfield on Sunday and believes they can finish above their opponents for the second season in a row.
The 29-year-old added: "We're heading in the right direction as a club, we're playing in Europe which is a big step and we'll make sure we enjoy this season and finish as high as we can again.
"Maybe Liverpool expected a better finish last season, but that's football. For us this time, it's not about making sure we finish above any particular club.
"Looking at our start so far, in terms of points, we're not too far off last year, although if you talk about performances, we don't quite have the same feeling that we had 12 months ago. Saying that, we know that each season is different to the last.
"Because of what we achieved last season, it's more difficult this time, teams respect us and play in a different way. We're not always going to play flowing, beautiful football, sometimes we'll have to play ugly to earn the three points and that's an important trait to have."