Liverpool manager Brendan Rodgers: No 'quick fix' at Anfield
Liverpool manager Brendan Rodgers says there is no 'quick fix' as he looks to the future at Anfield.
Last Updated: 04/11/12 9:03am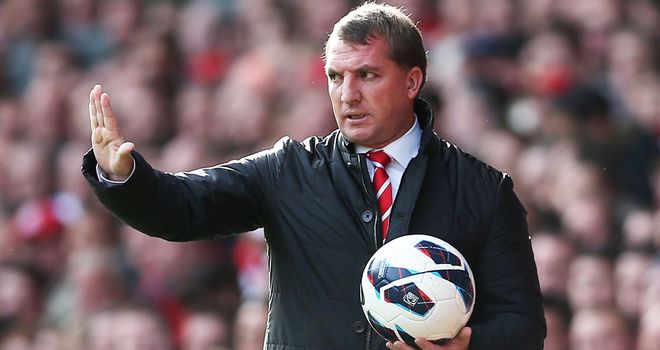 The Reds are currently 13th in the Premier League table - 14 points off the pace - and Rodgers has warned fans to expect a "bit of pain" in the short term as he is thinking long-term at the club.
He said: "There are certainly no regrets about coming here.
"It was always going to be a massive job. I signed a three-year deal but that process of rebuilding will go beyond that. Hopefully I can be here to do that.
"There is no quick fix here.
"We have to balance the finances and that is what we are doing. There will be a bit of pain on the way."
The comments come ahead of Liverpool's clash with Newcastle United - and Magpies boss Alan Pardew has been quick to defend the Reds manager.
Rodgers' desire to bring in an additional forward during the summer transfer window was made clear by the Liverpool manager, but Andy Carroll left on loan to West Ham and was not replaced.
Pardew, whose side face Liverpool at Anfield, has spoken of his desire for the Northern Irishman to be given time to imprint his style on his squad.
"You have to remember that Brendan Rodgers is someone who was brought in to play a style of football and a vision they believe in," Pardew said.
"They have to give him time and the right tools. In the last window, if I'm honest, I don't think he was given the tools he needed so I think it was always going to be difficult for him.
"Hopefully he will get to the next window in a good competitive place, as that's what Liverpool want to be, one of the top teams.
"It's a period for Brendan and the team when they're evolving and when they're evolving they're vulnerable."
Newcastle have not won a league game at Anfield since 1994.