Newcastle defender Danny Simpson is looking forward to facing Liverpool
Newcastle United defender Danny Simpson spoke exclusively to Sky Sports ahead of their trip to Anfield on Sunday.
By Claire Bloomfield
Last Updated: 04/11/12 3:26pm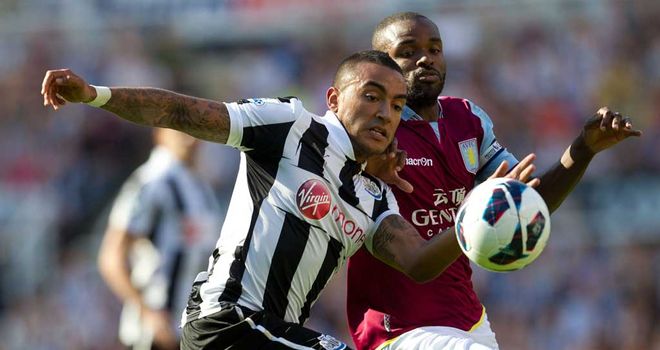 The Magpies defender insists he enjoys his visits to Liverpool: "The Anfield crowd isn't intimidating. You get to a point where you've played loads of games and you just take it in your stride.
"We've still got to do the same job regardless of what stadium we're at. We've still got to go on to the field, play football and win.
"The only difference is we have different players, tactics and formations. I wouldn't say Anfield is any more intimidating. Obviously different crowds react differently towards us and Liverpool fans can be quite noisy but as players we blank that out."
Simpson insists that the recent changes behind the scenes at Liverpool, including Brendan Rodgers coming in as manager over the summer, will mean they need time to 'gel'.
"It's tough, there is always things going on at all clubs. Liverpool have brought in a new manager who has his own ideas," he continued.
"He's a young manager and he's brought in his own players. Sometimes it takes time to gel. Everyone knows Liverpool ain't the club they were many, many years ago but they're still a massive club and they have a massive history.
"They've still got some great players and there are players in their team that are match winners. A game might not be going their way but they've got players who can just put one in the top corner. I think their manager has even said it's work in progress. But whoever puts on a Liverpool shirt and is playing against you, you're still wary because Liverpool is a tough place to go."
Newcastle themselves have coped with many off-field issues with regards their owners in recent years, but Simpson insists the players tend to ignore those matters.
"We just have to worry about ourselves individually and as a team. Whatever is going on up there as they say, whatever decisions are getting made have got nothing to do with us," he said.
"As long as we're professional, we're looking after ourselves, training well, eating well and making sure we're performing at a weekend. Any of the other stuff you tend to just forget about and go out, perform well and pick up three points and not have any excuses."
Gerrard
Simpson is also a firm fan of Liverpool skipper Steven Gerrard, insisting he is still one of the best players in the world.
"It's a ridiculous shout for anyone to say Steven Gerrard isn't the player he used to be. He's England captain, he's hitting nearly 100 caps for England," he said.
"You still see him now, his passing is unbelievable, his passing range, he's still getting about the pitch like he used to. He's a world-class player and any team in the world would have him in their team. He's top class. Every time you play against Liverpool, the main thing is you want to keep Steven Gerrard quiet. If you keep him quiet then Liverpool are quiet."
Despite Liverpool's less than inspiring start to the campaign, Simpson is expecting a tough encounter.
"I think every single game in the Premiership now, the way the Premiership is at the minute, it's a tight game," said Simpson.
"Whether you're sitting at the top or the bottom of the league, it just shows how good our league is at the moment.
"There's not one game you would say is an easy game, they're all tough. Anyone who goes into a match thinking it's going to be an easy game then they tend to look embarrassed.
"Every game is tough and that's why you need to be focused for every single one of them week in week out. That's what makes it one of the best leagues in the world."
Simpson has found himself the subject of praise from his own manager Alan Pardew.
"Obviously it's nice to hear your manager say positive stuff about you but I still have to get back into the team, I've played the last couple of games but I need to perform well, I can't get carried away by positive things the manager has said. I need to repay him by performing well for him," he said.
"I want to get back to keeping clean sheets and we want to be tough to beat. Last season we had a record for our club in keeping clean sheets.
"I want to play my part in that. It's not just me - it's the whole back five and it's the whole team. Defending comes from the front. If I can do my job and do my best for Pardew then we've got players who will win us the game and pick up three points."