Liverpool's Steven Gerrard rates his England career as six out of 10
Soon-to-be England centurion Steven Gerrard has accepted his international career could have been better.
Last Updated: 14/11/12 9:31am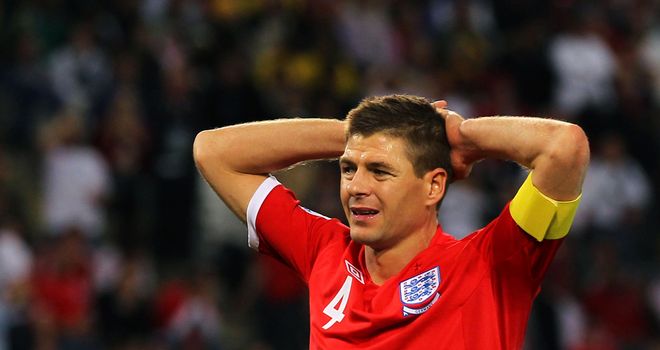 The Liverpool captain will become only the sixth Three Lion to reach 100 caps when facing Sweden on Wednesday night, following in the footsteps of Peter Shilton, David Beckham, Bobby Moore, Sir Bobby Charlton and Billy Wright.
The third and fourth names on that list stand out immediately as true icons of the English game, the man who captained their only World Cup-winning team and its best player.
So often lauded as one of the best of his own generation, it is that standard Gerrard judges himself by.
And, in comparison, the 32-year-old does not believe his own achievements stand up to much scrutiny, as he said: "If they are a 10 I would rate myself as a six or seven.
"(Moore and Charlton) will always be heroes of mine and heroes of English football.
"In football, hero and legend status get given out far too easily. As far as playing for England goes, there are maybe 14 or 15 heroes. The rest haven't really delivered."
It is hard to escape the view that Gerrard's time has coincided with one of international disappointments.
The assessment is not one he disagrees with, particularly when he looks back to the period between his debut in 2000 and Euro 2004.
At the time, Sven Goran Eriksson seemed to have presided over a decent period, reaching three quarter-finals in a row for the first time but Gerrard knows it should have been better.
"I don't really like talking about the 'golden generation' but, front to back, that was a really strong team," he said. "I totally agree that group of players underachieved at big tournaments."
Now Gerrard's aim will be to ensure the next generation, the likes of Arsenal's Jack Wilshere and Crystal Palace's Wilfried Zaha, are given the best possible help at the start of their England careers.
"I don't want any of these young lads to fear me," he said. "I'm approachable. The first thing I do when someone is new into the group is speak to them because I know how intimidating this set-up can be, especially for Wilfried.
"He has come from the Championship and is not playing against these players every week, so doesn't get a chance to speak to them. I told him if he needs anything, I am here."