Liverpool boss Brendan Rodgers defends tinkering with players' roles in the side
Liverpool boss Brendan Rodgers has defended his tinkering with players' roles in the side.
Last Updated: 30/11/12 8:11am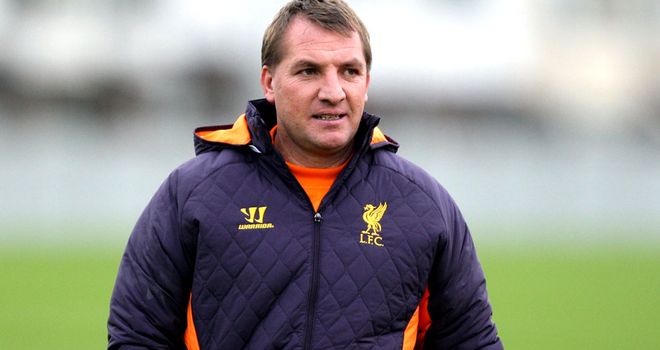 In recent weeks the experiment of pushing full-back Jose Enrique further forward has been a qualified success, with the Spaniard scoring one and providing some much-needed attacking impetus.
But injury to teenager Andre Wisdom has seen Glen Johnson revert to his more natural right-sided role and winger Stewart Downing come in as cover on the left of defence with less success.
Downing was culpable for Tottenham's opening goal in Wednesday night's 2-1 defeat at White Hart Lane after being caught ball-watching to allow Aaron Lennon to sneak in behind him.
The decision to drop the England international, who cannot get into the team in his preferred role, back into defence has been questioned by critics.
But Rodgers insisted it was a means to an end and hoped, like Enrique, it would revitalise the 28-year-old while assisting the team.
"Sometimes that can take the pressure off," said Rodgers. "In the modern-day game the full-backs are very much offensive players, although they have to defend.
"It is not a position which is new to him and he gets forward and serves the ball well from it.
"I would never put a player in a position where it doesn't benefit the team and that he doesn't want to play in because there is no reward for that.
"He is comfortable playing in it and it means Jose Enrique doesn't have to cover the whole pitch.
"We are just trying to find, because of the shallowness of the group, different solutions which allow us to attack and defend well. That is the pure, simple reason behind looking at players in different positions.
"Jose now looks a different player. He has got his confidence back, which is important, and he gives us that drive and power at the top end of the field."
Winning run
Rodgers has set his sights on going on a winning run after seeing their eight-game unbeaten record go at White Hart Lane.
"Hopefully we can get one or two bits of luck in the second half of the season and benefit from that," he continued. "I respect that they come in and do a good job - it just seems that this season quite a lot has gone against us.
"You need a wee bit of luck along the way. We went to Tottenham and dominated the game, but we didn't get the result and that's what's important.
"Over the next month or so we've got to turn these performances into wins. We had a run of eight games where we were unbeaten, looked solid and the quality of our game was good.
"Now we must go on a run of wins, and that's something we are capable of. If we do that, we can get higher up the table - where I think we should be.
"Apart from the opening 15 minutes, the quality of our game last night was at least deserving of a point.
"I'm not overly concerned, but we're in the business of results. We want to get as many points as we possibly can.
"The mood in the team is very good and the group is very unified. The quality of our games this season has been very good.
"We're creating chances - it's just about becoming a bit more clinical. If we can do that, we're strong enough in all areas to go on a good run."