Families of Hillsborough victims welcome High Court ruling to quash original verdicts
Hillsborough Family Support Group chair Trevor Hicks spoke of his delight at the decision to quash the inquest verdicts.
Last Updated: 19/12/12 4:41pm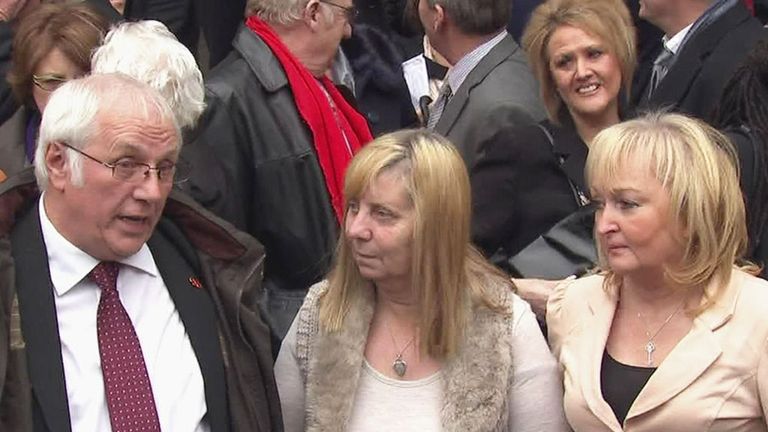 The Lord Chief Justice Lord Judge and two other judges in London ordered fresh inquests into the 96 Liverpool football fans who died in the crush 23 years ago.
More than 40 families had travelled to London for the hearing and burst into applause when the judges granted an application brought by Attorney General Dominic Grieve.
Speaking outside the Royal Courts of Justice, Hicks said: "Justice is on its way. Everything we've said has been proven to be correct."
Michelle Carlile, 44, clutching a photograph of her brother Paul, 19, who died at Hillsborough, said of the decision: "It is bitter-sweet. We have known the truth for 23 years."
The family of Hillsborough victim Gary Jones, 18, said the ruling was a major step forward.
Mr Jones's sister, Cathy, said: "It's a step towards justice and the truth. The last 23 years has been very difficult - every day having to fight. Nobody should have to justify why somebody has died and have to fight for their honour."
Marion Brady, whose son Paul, 21, was killed, said it was "absolutely wonderful" that a new police investigation had been instigated, and added: "It's been very hard. We have had knockback after knockback. I just hope I live to see it all come to fruition."
Ian Daley, 48, who was at Hillsborough and lost his friends Graham Wright, 17, and Gordon Horn, 20, said: "The truth is out now. It's only what the families deserve. They've had to wait for a long time."
Stephen Kelly lost his brother Michael, 38, in the disaster, describing him as "38 going on 15".
He said: "I'm absolutely over the moon. It's a brilliant result today, we've justified our actions for all these years.
"We've really worked hard for this, and Hillsborough wasn't an accident, it was a disaster waiting to happen.
"But it's been proven today and the inquest has been quashed. I'm really pleased with that.
"It's clearly been stressful at the least, but we got here, and everybody who supported us all these years - this is for them."