Brendan Rodgers says Liverpool will not be overly busy during the transfer window
Liverpool boss Brendan Rodgers says supporters should not expect a major influx of new boys during the transfer window.
Last Updated: 27/12/12 2:35pm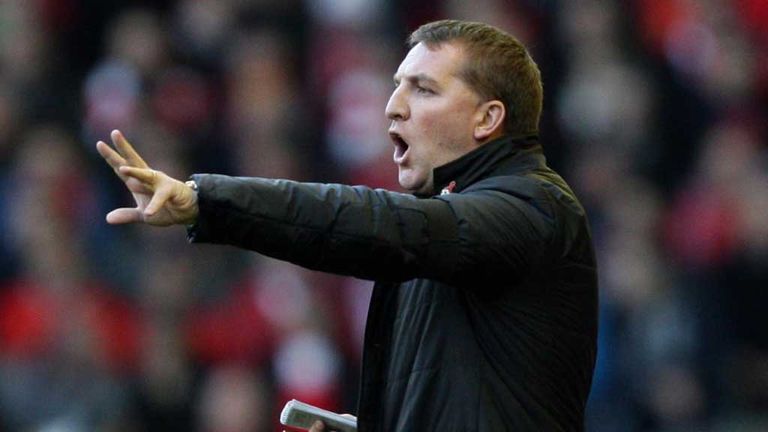 The Reds are reportedly close to agreeing a deal for Chelsea forward Daniel Sturridge and are also believed to be pursuing Blackpool's Tom Ince but Rodgers says the budget will not allow him to drastically overhaul the squad.
Liverpool were unable to land Clint Dempsey on deadline day in August, meaning Luis Suarez has been the only senior striker available for the last four months.
And a 3-1 loss at Stoke on Boxing Day left Rodgers' men with 25 points from 19 games, the same record they had during the short-lived reign of the much-criticised Roy Hodgson.
However, Rodgers said: "We won't be overly busy in January but some reinforcements will be nice, just the addition of some firepower to help us at the top end of the field.
"There won't be a great deal of business done, we are probably just trying to get some of the business done which we hoped to do in the summer.
"The budget was going to be tight this year, for a number of reasons, but we will be doing something because it is the need of the group.
"From next season the purse strings should loosen a bit more but, in terms of this season, it was always on the understanding it was going to be tight in terms of finance."
Rodgers also pointed out that January is not always the best time to hunt for bargains in the market.
"We had hoped to do some business at the back end of August and we weren't able to do that," he said.
"The addition of a few faces in January can freshen up the group and allow us to kick on but it is all very well having absolute millions to spend if there is not the availability of players.
"It is not always about the finance and the affordability of the player, it is about the availability and, if it's not the right availability, I won't spend money just for the sake of it.
"Every manager would want to get them in as early as you possibly can and we have to give ourselves every chance.
"If we can get them in at the beginning, great, but, if there is something which pops up at the end of the window, we can look at it."