Youth-only policy no good for Liverpool, warns veteran Steven Gerrard
Steven Gerrard has warned Liverpool chiefs that a youth-only transfer policy would be to the detriment of the club.
Last Updated: 12/01/13 9:23am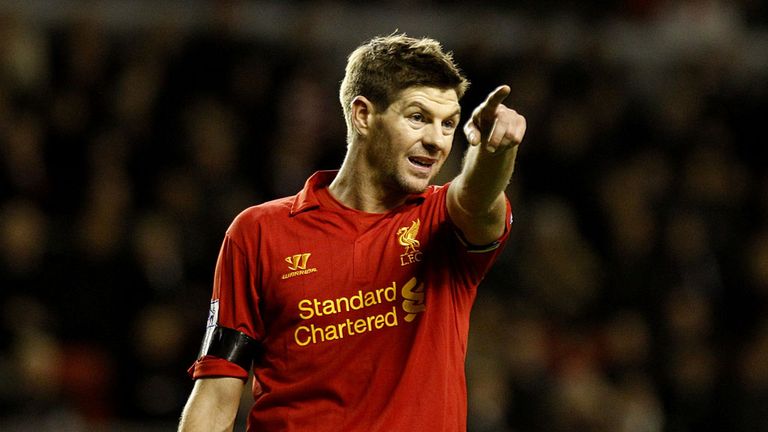 The 32-year-old, who has 18 months left on his contract, continues to wield an enduring influence at Anfield, having lasted every Premier League game this season.
Liverpool have pursued young talent like Fabio Borini, Daniel Sturridge and Joe Allen - all under 24 - since Brendan Rodgers was appointed boss last summer.
But Gerrard has stressed the importance of experience and cited Frank Lampard's expected departure from Chelsea on a free transfer as a source of bewilderment.
"I disagree with the policy to be honest," Gerrard told The Guardian.
"I've seen many signings throughout the world who have gone to clubs at the age of 28, 29 or even older and done fantastic jobs.
"The main example at the moment is, if Chelsea don't keep Frank Lampard and another big club comes in and gets him and he produces top attacking midfield performances for the next two years, someone is going to get a bargain. What is he, 34?
"I can understand the policy that everyone wants young, bright, British players but I don't agree 100 per cent that should be the only way.
"I think you've got to add experience to young gifted players as well because in this league and at this level you need experience.
"I look at Aston Villa now and the majority of them are going to be fantastic players in time but in my opinion that team needs two or three old heads to guide them. To be successful at this level you need to get the mix right."
On his own prospects of a new deal, he added: "The manager has told me he wants me round for a long time.
"I think I can play another three or four years. I'm not saying I want a contract for that length but nothing has been spoken of yet."