Liverpool manager Brendan Rodgers denies Anfield outfit lack aggression in key games
Liverpool manager Brendan Rodgers has rejected accusations his side lack the appetite for battle when things get tough.
Last Updated: 14/01/13 5:45pm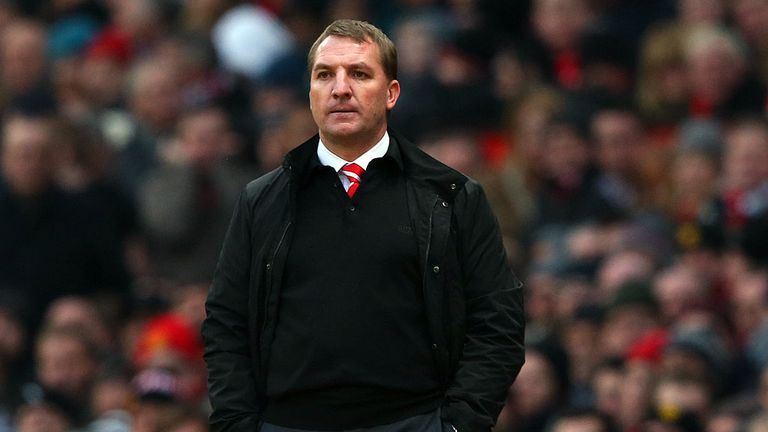 Rodgers' team were criticised for being tentative during the first half of Sunday's 2-1 defeat to Manchester United, before an improved display after the break threatened to steal a point from Old Trafford.
"Aggression isn't about having a 6ft 3ins player in the middle of the field who is going to drive you forward, aggression is in the mind," said Rodgers.
"We have Steven Gerrard, who is one of the best examples of that in this country over the last 10 years.
"We have that aggression but it is not about what size you are, it is about the fight which is in there.
"In the second half the ability to fight was much better and we were much more aggressive in our play and attitude and we should have got something."
Rodgers' side have yet to beat any team currently in the top 10 in the league this season.
"It is not a problem. We should have beaten Manchester City earlier this season, we should have beaten Everton away and we haven't," added Rodgers.
"We have been close in a number of the games against the guys at the top end of the league but that is the next step for us."
He added: "To win those games can set your journey off in a totally different direction. It is not something which is mental but it is something we need to do if we are going to progress.
"We have great hope in the future, because of how we are working, that will happen here.
"It will be a long journey for us but it is about closing the gap in the squad, getting those wins against our rivals and then we can gain confidence from that.
"I feel we are a match for any of the teams in this league but what allows you to close the gap in terms of the points is having a squad which allows you to compete. For us the squad has been very thin in these opening months."
Sturridge
The signing of Daniel Sturridge already looks to have filled an important hole as two goals in his first two matches have given a glimpse of what he can provide.
Forward Fabio Borini is also fit again after three months out with a broken foot and, from having only Luis Suarez as his only fit senior striker for most of the season, Rodgers now has options up front.
"Daniel gave us a different dimension with real pace, playing on the shoulder, and every time he is on the box you sense he can get a goal," he said.
"Good players enjoy playing with each other and I think everyone recognises that, at 23, he has his best years ahead of him. You see him like he was against United and he is not even fully fit yet.
"He will be a real handful and, going forward he and some of the other players can be the real difference for us.
"It is important you have balance and for me that is the challenge, I want to have good players at the club and we will keep building our squad so we have that.
"But the players we are bringing in are flexible and can play in a couple of positions.
"Fabio can play off the middle and the side, we have seen Suarez playing central all season but for most of his career he's come off the side and the same with Daniel.
"It is about getting good players onto the field who can fit into the structure. We needed goalscorers in the club and with the players we have got we can now do that."