Fabio Borini hopes for a fresh start at Liverpool after a difficult start to his career
Fabio Borini is determined to prove his worth to Liverpool after a frustrating start to his career at Anfield.
Last Updated: 16/01/13 6:07pm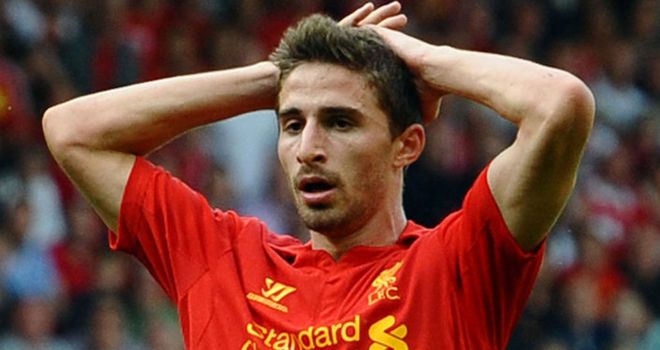 The striker joined from Roma in the summer in a £10.5m deal, but he is yet to score a Premier League goal and has just returned from a three-month lay-off with a broken bone in his foot.
Borini made his comeback as a second-half substitute in the 2-1 defeat by Manchester United on Sunday and the Italian hopes he can finally display his best form for the Reds.
"My Liverpool career is actually starting now, I think. I'd only played five league games and six or seven games in the Europa League [before the injury], which is not a lot," he told the club's official website.
"It really starts now with great intensity week in, week out to get playing again."
Borini admits his career has been disrupted by injuries in recent years and he relished the chance to test his fitness in such a high profile game.
"It's great to be back at Liverpool. It was good to come back, especially in a big game and play 30 minutes as we tried our best to get a draw," he said.
"When I was stood on the touchline, I felt good. All the memories of the last three months and the things I've been through went from my mind.
"I put all my worries and the bad things about the injury behind me, and looked forward to all the positive things on the pitch.
"It was extremely frustrating because in the last three years I have got injured for three months every year in October. That was the most frustrating thing because at the same time for the last three years, I've got an injury.
"I haven't played a full season yet because of those injuries, but I hope they'll stop [now]. It's just been bad luck and nothing about me. They've been different injuries each time and not the same."