Lucas Leiva has high hopes for Philippe Coutinho's future in the Premier League
Lucas Leiva believes new signing Philippe Coutinho will not need long before becoming an impact player for Liverpool.
Last Updated: 19/02/13 11:03am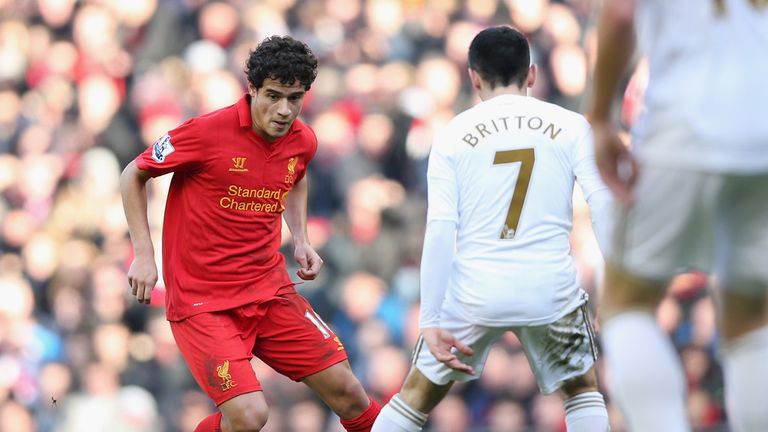 The 20-year-old marked his full debut with a goal in the 5-0 win over Swansea last weekend and his Brazilian compatriot believes there is plenty more to come.
Lucas revealed training so far has come as a bit of a shock for Coutinho, compared to previous club Inter Milan, but he sees a massive future for him and says his signing can only be seen as a positive one.
"His reputation is very high back in Brazil but he left the country very early so we couldn't really see him play in the first team," said Lucas.
"At Inter he didn't have as many chances as he thought he would have so here is a new challenge for him and he is really looking forward to it.
"He is still adapting and we were talking about the pace of the Premier League and even in the training sessions he can feel it is much quicker than Italy.
"He is trying to play quick because he knows he will need that tempo to be successful.
"It will take him time to settle but a goal will give him confidence and we could see there were positive things from him.
"Hopefully he will be a great player for now and for the future as well as he is only 20."
Lucas says he will do everything he can to help his new team-mate settle in England and hopes that will happen quickly thanks to the cosmopolitan nature of the Liverpool squad.
"Every single young player who comes to the Premier League finds it difficult and it is going to be the same for him but we have a few South American players who can help him," he added.
"He has the skills and the ability to do well. We just need to keep positive with him and hopefully he will be okay. I really don't tell him what I went through in my early stages, I just told him how he will be successful here."