Jose Enrique feels Liverpool will miss Daniel Sturridge against Zenit St Petersburg
Jose Enrique fears Daniel Sturridge's absence will harm Liverpool's chances of salvaging their Europa League campaign.
Last Updated: 19/02/13 2:02pm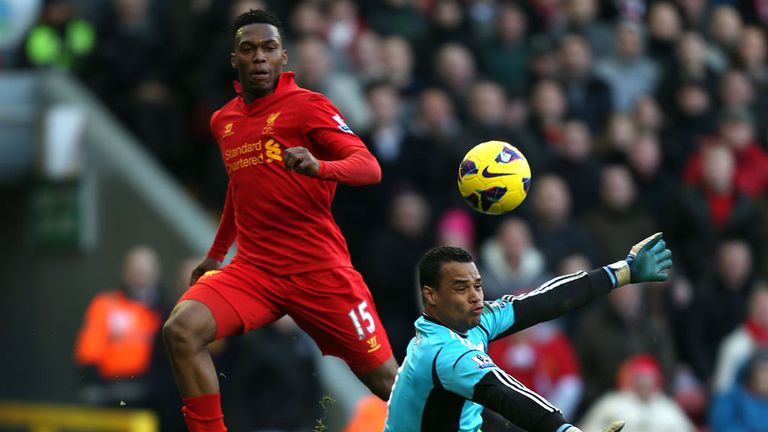 Sturridge has quickly become an important first-team player since arriving from Chelsea in January, and his goal in Sunday's victory over Swansea was a fifth in seven appearances.
But the forward is ineligible in Europe, and without him Liverpool struggled in front of goal as they went down 2-0 at Zenit St Petersburg in the first leg of their last-32 tie.
This week's Anfield return represents a last chance to stay in the hunt for a trophy this season, and Enrique said: "Daniel Sturridge is a great player.
"I know he can't play in the Europa League and that is a real miss for us because he already has a good understanding with Luis Suarez - when they play together they score goals and we score goals as a team."
Despite the blow of losing Sturridge, Enrique is confident the support of a fervent home crowd will give his side a chance of upsetting the odds.
He said: "Playing at home, the atmosphere will be very good and the most important thing is to score early, allow the confidence to grow and then we will have a very good chance in the game.
"We have a good chance even though we lost 2-0. If we can stop them scoring and have a clean sheet that will give us a good chance because I know we can score at home."
Enrique also thinks Liverpool can replicate their dominance shown in the 5-0 thrashing of Swansea when Zenit come to Anfield.
"It was important to win, that was most important, and then 5-0 of course is good for the team because the next game is the most important for the season and we have to score at least two," Enrique said.
"It was a good reaction from the team. It was a really hard game against Zenit so it is good for us to have this result because now our confidence is there for the next game, which it is really important we win.
"They (Zenit) spent a lot of money so they have good players so we have to keep a clean sheet and then to score as many as we can."