Brendan Rodgers hails Liverpool striker Luis Suarez's winning attitude
Brendan Rodgers has praised Luis Suarez's battling spirit after he rediscovered his goalscoring touch against Swansea.
Last Updated: 20/02/13 6:42pm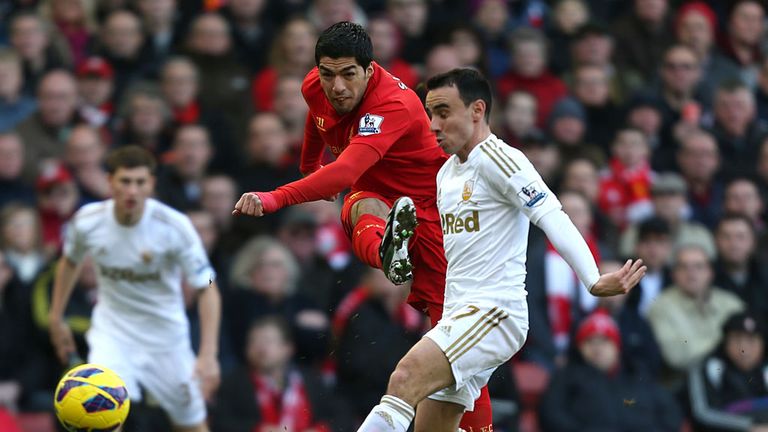 The Uruguayan squandered a number of chances in the 2-0 Europa League defeat at Zenit St Petersburg, but he found the net in a fine individual display against Swansea on Sunday.
Suarez looked far from happy when he was substituted with 12 minutes remaining, but Rodgers wanted the fired-up striker to have some rest before the return leg against Zenit on Thursday.
"He just wants to help the team so much," he said.
"If you look at the guy, coming back after the game at Zenit, when he could have been disappointed having had some chances - he is a real warrior of spirit, and he is a winner.
"He didn't want to come off. He wanted to stay on and get more goals.
"I've obviously got to think of the bigger picture.
"I wanted him to get a round of applause from the crowd because he deserved it, he worked his socks off.
"He is going to be very important for us tomorrow night. Giving him that little breather - at the time it is difficult for him to accept because he wanted to play - but he is a critical player for us."
Fabio Borini will be absent at Anfield after suffering a shoulder injury against the Swans and Rodgers confirmed he will sit out for at least six weeks.
"The plan will probably be that by the weekend he will look to have an operation, then you are probably looking at six to eight weeks," he said.
"It has been a difficult season for Fabio, coming into such a big club and then getting injured early, being out for three months, coming back, working hard and waiting for his moment, and then doing his shoulder.
"But he is a tough-minded young boy. He will get through his operation and then we will see how he recovers."