Lucas says the Liverpool fans have a key role to play against Zenit St Petersburg
Liverpool midfielder Lucas wants the club's fans to help them knock Zenit St Petersburg out of the Europa League.
Last Updated: 20/02/13 8:48pm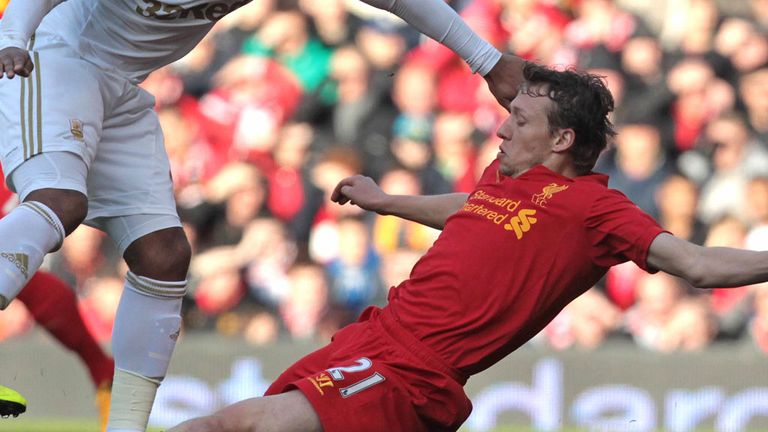 The Reds are facing a stiff task, having lost the first leg of the last-32 tie 2-0 in Russia last week, but Liverpool have claimed many a famous European victory under the floodlights at Anfield.
And Lucas thinks the passionate home fans may be able to inspire a memorable comeback on Thursday.
"It is a competition we always wanted to do well in," said the Brazilian. "We always know on these special European nights at Anfield what the crowd give to us.
"It will be an important game for us this season. We are really positive and believe we can get through to the next stage.
"Hopefully the crowd will give us a special night and we will play well and get through. The crowd will definitely be our 12th player.
"We know we need to score goals, and also we need to play with a defensive mentality.
"Conceding a goal would make it even harder for us, we need to find a balance.
"We have been working on the training ground and I am sure the approach will be good.
"Hopefully it will be another good night to remember after the game."
Liverpool boss Brendan Rodgers added: "They will be vital for us, the supporters, as they are every game. I am sure we will get the backing that will hopefully get us to a victory.
"Such nights really make Liverpool what it is.
"If you walk round Melwood (Liverpool's training ground) and see the various quotes from top players and some of the best managers in the world - it is not the game that is talked about, it is the supporters."
The game brings Lucas up against one of his compatriots in Hulk, the powerful former Porto forward, and the 26-year-old midfielder hopes to gain the edge.
He said: "We are close, especially when we played a few times in the national team.
"He scored a good goal against us and they are taking the competition very seriously.
"Hulk is an important player for them but he hasn't given me any (team) news.
"He wants to win the game, as I do. We will have a friendly chat after the game and hopefully I will be happier after the game."
Lucas now feels he is returning to his best form after missing most of 2012 through injury.
Lucas was out for seven months after suffering anterior cruciate ligament damage in December 2011 and then missed three months earlier this season with a thigh problem.
He said: "I am very close to where I was. It has been a good three or four months since my last injury.
"Still I have a few things to improve but I am very close to where I want to be.
"These games I am playing will help me get back to where I was."