Liverpool's Pepe Reina enjoying working relationship with Brendan Rodgers
Pepe Reina insists he has a good relationship with Liverpool manager Brendan Rodgers and is happy with his methods.
Last Updated: 27/02/13 10:49am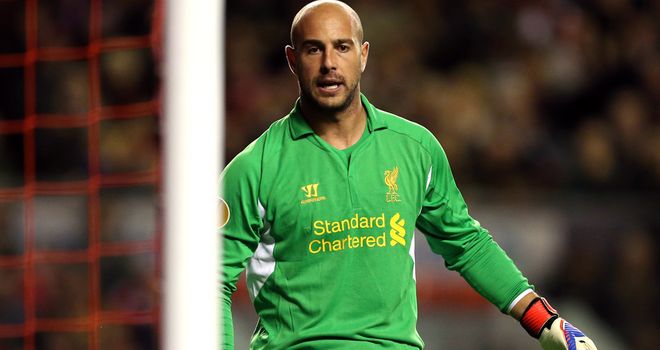 Rodgers has maintained throughout that Reina is his first choice, even defending the Spaniard when he was out injured for a month in October and questions about his form were raised.
"I have a great relationship with him," said Reina. "We have a lot of ideas in common and the way we see football is quite similar.
"Our understanding about tactics and feeling for football is very similar. I'm very happy with our manager.
"It's about learning and he's certainly making sure we learn every day in training about ways to win. That's important because at the end of the day, what you want to do is win.
"If you play good football, you'll definitely be closer to winning more games. That's where we are and my relationship with the manager is very good.
"If the players follow the philosophy we'll definitely become a great side - a difficult and strong side to beat and a competitive one."
Reina's distribution has been one of his stand-out qualities but he has had to adapt his methods to fit in with Rodgers' possession football.
"There is no doubt that I am more involved with my feet than before, but so is the whole team," he said.
"The amount of passes in every game is higher and higher compared to last season. It's a different style and I am happy with it."
That style has brought mixed results this season with the side struggling to find the necessary consistency.
The Reds are currently eighth in the table, 10 points adrift of fourth-placed Chelsea and a late charge for Champions League qualification looks highly improbable.
However, midfielder Jordan Henderson believes the positives from their last two games - even if one victory still resulted in their elimination from Europe on away goals - means they will not give up on the top four.
"We can take a lot out of the last two games," he told Liverpool's official website.
"They were good performances and good results. Unfortunately we didn't end up qualifying for the next round of the Europa League but we gave it our best shot.
"We've got 11 games left and want to succeed in those games. We've done well of late - I think we've been playing some good stuff - we're still improving.
"(To qualify for the Champions League) would be a massive achievement.
"We'll give it our best shot. We know it will be difficult but we still believe we can do it. The coming games will be a good chance for us to showcase what we want to achieve."