Jose Enrique believes Luis Suarez has similar skills to Lionel Messi
Jose Enrique believes Luis Suarez has a similar ability to Lionel Messi when it comes to beating defenders.
Last Updated: 07/03/13 1:10pm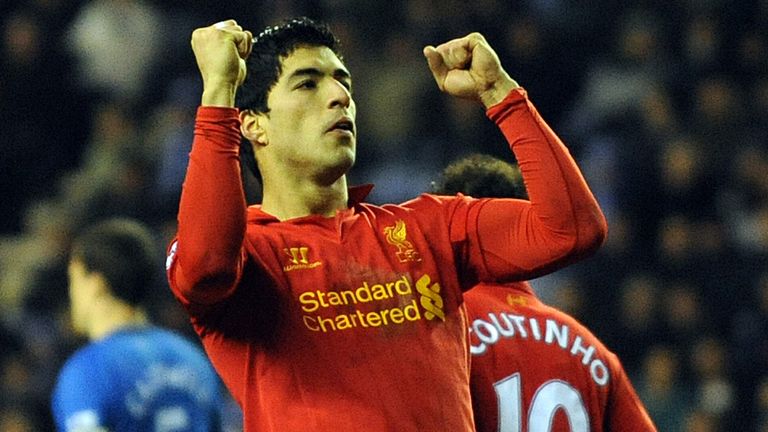 Suarez has been in prolific form for Liverpool this season and is the current leading scorer in the Premier League with 21 goals, two ahead of Manchester United's Robin van Persie.
But Enrique insists the Uruguay international is much more than just a goalscorer as he marvels at the close skills and direct running that Suarez exhibits in training.
"I tell [Luis] all the time that he always does the same thing - he tries to do nutmegs. It's always 'megs, 'megs, 'megs and you just know he is going to do it but you can't stop him," said the Spaniard.
"When you know someone you can know what they are going to do, but he's still a very difficult player to train against and he scores so many goals in training.
"It's like with Messi: everyone says he is going to cut inside all the time and you know he is going to do this but you can't stop him from cutting inside and scoring goals.
"With Luis it's the same (but) of course there are some differences between the two players."
Enrique admits Suarez's tireless displays up front for Liverpool are crucial to the side.
"Luis is a great all-round striker but it's not just about the goals, it's about what he gives to the team - it's about his personality and his attitude," he said.
"He's the same in training as what you see in games. He gives 100 per cent all the time. He never misses training and, touch wood, he has not been injured so far.
"Everyone wants to win - my character is that I don't like to lose at anything - but with Luis when he loses the ball he knows exactly how to press again.
"It's amazing, of course, how he scores goals and some of the goals he has scored have been incredible."