Steven Gerrard: Spurs win proves Liverpool can compete with the best
Steven Gerrard reckons Liverpool's first win this season against a top-five side was long overdue.
Last Updated: 11/03/13 10:29am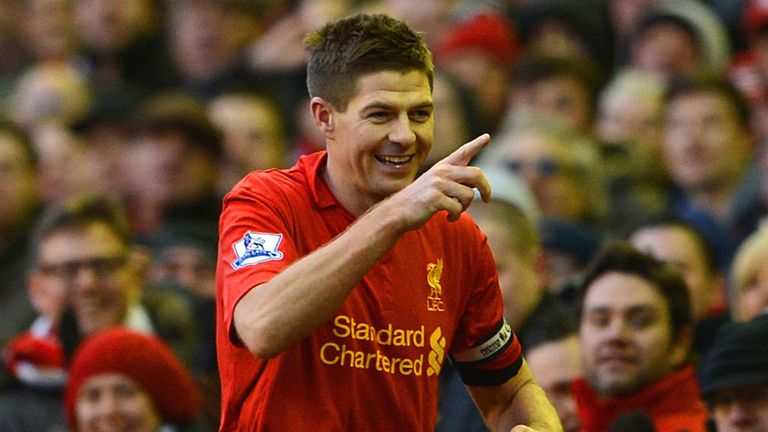 The captain's late penalty secured a 3-2 success against third-placed Tottenham, who arrived at Anfield on Sunday unbeaten in the Premier League since 9 December.
Until the weekend, draws with Chelsea, Arsenal and - twice - with Manchester City were as close as the Brendan Rodgers-era Liverpool had come to defeating one of the league's elite.
And Gerrard said: "It's a big win for us. With our performances against the top sides this season I think we've been very unlucky not to get a win.
"It's been too long so there's a bit of relief really that we have proved we can beat one of the top sides in the league.
"I think on current form, along with ourselves, Tottenham are probably the best team in the league."
Liverpool have now won three in a row in the league, scoring 12 goals in the process, and are seven points off fourth-placed Chelsea with nine games to play.
Sunday's win also took them above Everton on goal difference, and Gerrard said: "When we went out of the Europa League the message from the manager was that we needed to try to win as many of our remaining games as possible.
"Our form is good but we can't afford to get carried away just because we've beaten Tottenham. We need to show what we've shown in all of our remaining games. We want to finish above Everton and as high as we can in the league."
After scoring his penalty Gerrard ran to the bench to celebrate with goalkeeping coach John Achterberg.
"I wouldn't like to take all the credit for the three points," added the England midfielder.
"There are so many details that go into the games nowadays. John did a montage on their goalie for me before the game.
"He (Hugo Lloris) consistently went to the right and I think he had saved four out of eight going to his right.
"I was always going to his left having watched that, but if I had never got that montage then I would probably have gone to his right so credit to John."