Brendan Rodgers predicts tough test for Liverpool at Reading
Liverpool manager Brendan Rodgers is expecting a tough battle when he takes his team to his former club Reading.
Last Updated: 13/04/13 2:33pm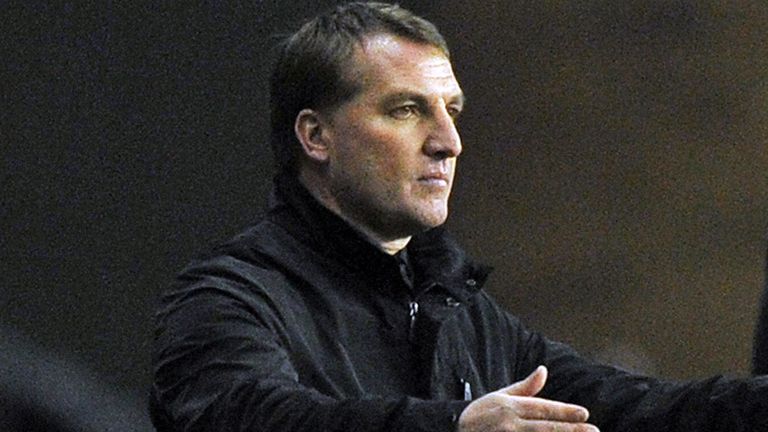 The Royals are eight points adrift of safety in the Premier League although Rodgers does not believe relegation is a foregone conclusion under new boss Nigel Adkins.
Adkins has presided over two defeats since taking over from Brian McDermott but Rodgers reckons he is the right man for the job.
"It has been a difficult season and you feel sorry for Brian who got the team promoted but ended up losing his job," said Rodgers.
"They have decided to put in Nigel Adkins, who is a top-class manager but he is going to need time because his footballing principles and how he wants to play will be different to maybe what the club has had.
"I am sure he will fight and not give up on staying up and that is why it will be a tough game.
"But he is a guy who can go in there and take them back up as he has a couple of promotions under his belt and he knows what it takes to get back into the Premier League if they were to go down.
"But there are a number of games left and until they are mathematically down they will keep fighting."
Rodgers admits he left Watford to take charge of Reading against his better judgement in 2009.
The Northern Irishman was in charge for only six months - winning just six of 23 matches - but he sees that period, and the subsequent six months he spent out of work, as career-defining.
"It does knock you initially because that was the first time I'd ever lost my job in football," said the 40-year-old.
"I was always on an upward curve and I went there from a very good club in Watford. My plan was to stay there (Watford) but my heart overruled my head.
"But I was glad I went to Reading because even though it was a short stay of 20-odd games and it didn't work out, on reflection, it gave me a chance to look at myself and my beliefs.
"In order to progress as a manager I had to find out whether I had character or not because you knew in your next chance you had to succeed.
"I needed to reflect well and show the character to go again. It didn't seem it at the time but it definitely does help you.
"It hurts, arguably one of the worst feelings you can have - especially in football because football keeps moving.
"What happens is everyone rings then everyone forgets - that's the way football works but it gives you a greater determination, especially if you are a young coach.
"Maybe the journey I was on I felt it would never happen to me, everything was hunky dory and going really well and within the matter of 20-odd games I was out on my ear.
"The six months I was out of work from leaving Reading to going to Swansea was a real useful period for me to reflect and set me up for the rest of my football career."