Liverpool keeper Pepe Reina calls for strong end to the season
Pepe Reina insists Liverpool still have a lot to play for despite their fading hopes of qualifying for Europe.
Last Updated: 15/04/13 11:47am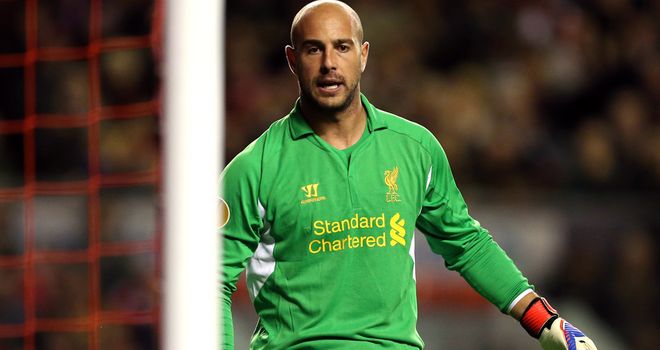 Brendan Rodgers' side dropped two crucial points in the race for a top six finish after being held to a frustrating goalless draw at Reading.
The draw leaves Liverpool struggling to qualify for Europe next season as they sit eight points behind fifth placed Spurs with just five games left.
However, Reina says they will not let the rest of the season fizzle out with games against Chelsea, Everton and Newcastle in their final five fixtures.
"There are still 15 points to play for and it's vitally important we finish the season well," Reina told the Liverpool Echo.
"We need to make sure that we are focused on the games we've got remaining and we need to end the season with a winning mentality. That will be important in terms of next season.
"There will be no shortage of motivation. Look at the games we've got left, Chelsea and Everton at home, Newcastle away - those kind of matches are a motivation for any player and even more so when you are wearing a Liverpool shirt.
"We need to get some wins. If that gets us into Europe then good but if not we need those wins for our own pride.
"Whenever you get the opportunity to play for this club you need to give 100% in every game and try to win them all."