Ian Ayre feels Liverpool's transfer policy is improving thanks to owners
Ian Ayre insists Liverpool's transfer policy is improving and admits owners Fenway Sports Group 'took a leap of faith'.
Last Updated: 18/04/13 4:29pm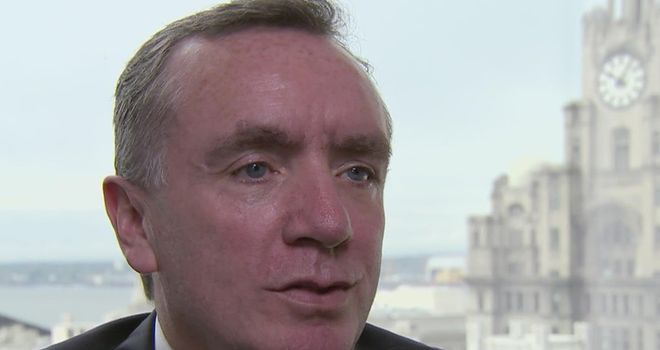 The American group that took over in October 2010 had no previous experience of the sport, with the Boston Red Sox baseball team its primary interest.
Since the takeover, Ayre feels Liverpool's transfer strategy has changed significantly.
"There were two phases to what's happened since the change of ownership," said the managing director.
"In the first phase we talked about the knowledge of soccer and that takes time so we probably spent a year with the owners taking a leap of faith to a certain degree of other people telling them what they should be doing.
"Within that year we then get to a situation where the dust has settled and people start to see what is and isn't working.
"I think the fundamental shift particularly around player acquisitions and disposals was that we took the view that it needs to be more of a science.
"Your biggest expenditure line can't be the whim of any individual."
'Moneyball'
FSG's first transfer window saw the club spend in excess of the £50m transfer fee for Fernando Torres on Andy Carroll (£35m) and Luis Suarez (£22.75m).
And the following summer £60m was spent on acquiring Stewart Downing Jordan Henderson, Charlie Adam, Jose Enrique and Sebastian Coates.
While there has been less activity in the last two windows, although spending has still been close to £50m, Ayre denies FSG have ever wanted to transfer their 'Moneyball' strategy that worked well for them in baseball.
"I don't think there was ever anyone at Liverpool using the word Moneyball, but plenty of other people were using it," he said.
"Despite what people think and read, it's not a whole bunch of guys sitting behind a computer working out who we should buy.
"It's a combination of old-school scouting and watching players - and that's Brendan, his assistants, our scouts - with statistical analysis of players across Europe and the rest of the world.
"By bringing those two processes together you get a much more educated view of who you should and shouldn't be buying and, perhaps as fundamentally, how much you should be paying and the structure to those contracts.
"I think we've had relatively good success since we deployed that methodology. We're getting better all the time."