Jose Enrique says Liverpool are still making progress despite no trophies
Liverpool defender Jose Enrique believes a lack silverware this season does not mean progress is not being made.
Last Updated: 19/04/13 8:59am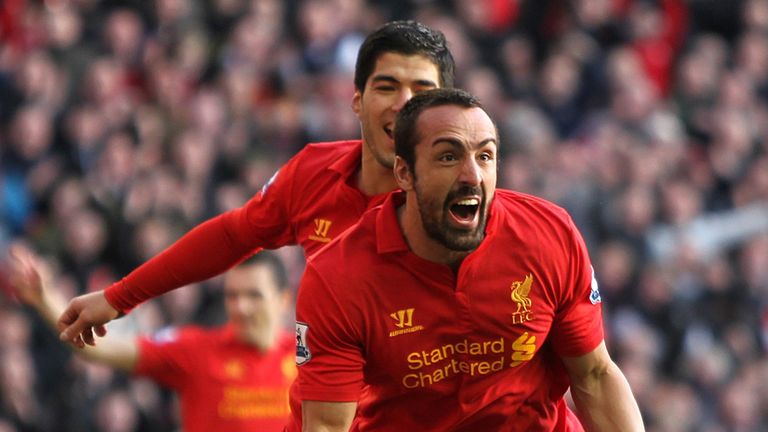 This time last year the Reds already had the League Cup in the bag and were looking forward to an FA Cup final appearance against Chelsea.
They would lose at Wembley and finish a disappointing eighth, 17 points adrift of Champions League qualification which ultimately cost Kenny Dalglish his job.
But, in a campaign of ups and downs, which are still continuing despite a good unbeaten run in March under new manager Brendan Rodgers, Enrique is convinced they are improving.
"In terms of football and for the future, I think so," said Enrique.
"As the manager said from the start, it's difficult because he came to the club with another type of football that we're not really used to in England.
"It's difficult to get used to this system for players that have never played that type of football.
"Now you can see even in the games we are not winning, we are playing really well - Southampton (a 3-1 defeat earlier this month) is the only game that we didn't play that well.
"Against West Ham we tried until the end and played really well; we didn't have luck in the final third.
"Of course, last year we played two finals and won one of them - you can see how difficult it is to win a trophy.
"We won one last year and nothing this year, but in terms of the future we have made progress."
Meanwhile, Enrique has tipped team-mate Philippe Coutinho to have the same impact as Luis Suarez at Anfield.
Coutinho has impressed at Liverpool since his arrival from Inter Milan in January and Enrique believes the Brazilian will be even better next season once he has settled into life in England like Suarez did after he joined the Reds halfway through the season in January 2011.
The 27-year-old told the Liverpool Daily Post: "Luis had a really good year after just six months here before. Now you can see the real Luis, with how many goals he scores.
"With Coutinho, it's going to happen the same I think. You can see how well he is doing but I think he's going to improve a lot more - if he improves after what he has been doing already he is going to be a top player for us.
"He's a really calm player; he doesn't talk much but he's always joking. I really like him."