Liverpool captain Steven Gerrard won't comment on Luis Suarez biting incident
Liverpool captain Steven Gerrard will not comment on the Luis Suarez biting incident until he has seen the footage.
Last Updated: 21/04/13 7:42pm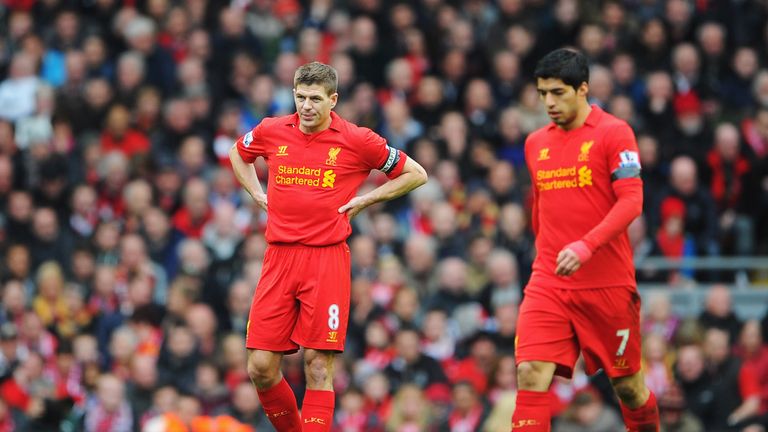 Television pictures appear to show Suarez biting into Chelsea defender Branislav Ivanovic's arm midway through the second half of the 2-2 draw at Anfield.
Suarez's header deep into stoppage-time earned Liverpool a point, but he is now facing a Football Association investigation regarding the biting incident.
Liverpool boss Brendan Rodgers refused to comment on the matter until he had reviewed the footage and captain Gerrard echoed that statement.
"I'm not aware of the incident," Gerrard told Sky Sports. "If there is clear footage then I'll make a judgement and comment when I've seen it, and I haven't seen it.
"I'd rather talk about his performance in the second half and his performances from day one this season. He's been by far the best player in the league.
"He's just behind Ronaldo and Messi as the best players in the world. I'll talk all day about Suarez as a genius and a player.
"When you're playing against Chelsea in big Premier League games, it's going to get spicy. Other people want to talk about unsavoury incidents, but you're going to get nothing out of me."
Chelsea playmaker Juan Mata has also not seen the incident and said Ivanovic did not comment on the issue after the game.
Mata said: "I didn't see it. Of course, Suarez is one of the best players in the Premier League and he scored at the end, but I'm not really sure if it was out of time or not."
And when asked if Ivanovic had mentioned the incident, Mata said: "Not to me, no."