Liverpool striker Luis Suarez says sorry for biting Branislav Ivanovic
Liverpool striker Luis Suarez has apologised for biting Branislav Ivanovic and described his behaviour as 'inexcusable'.
Last Updated: 22/04/13 2:49pm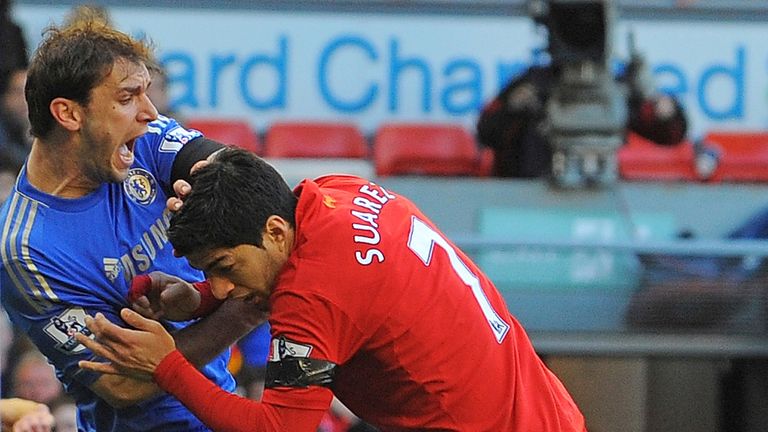 Suarez tangled with Ivanovic in the penalty area midway through the second half and television footage appeared to show the Uruguayan biting his opponent's arm.
Referee Kevin Friend did not see the incident and the Football Association is set to open an investigation into the matter on Monday, while Sky Sports sources understand Ivanovic will not press charges.
"I am deeply sorry for my inexcusable behaviour earlier today during our match against Chelsea," said Suarez in a statement on the club's official website.
"I have issued an apology and have tried to contact Branislav Ivanovic to speak to him personally. I apologise also to my manager, playing colleagues and everyone at Liverpool Football Club for letting them down."
Suarez later tweeted: "I've just spoken to Ivanovic on the phone and I could apologise directly to him. Thanks for accepting."
A Chelsea spokesman said: "Branislav appreciated the call and his apology."
Liverpool's managing director Ian Ayre, who had postponed a trip to Australia to handle with the incident, confirmed the matter will be dealt with internally.
Ayre said: "Luis has made an unreserved apology for his actions today.
"His behaviour is not befitting of any player wearing a Liverpool shirt and Luis is aware that he has let himself and everyone associated with the club down. We will deal with the matter internally and await any action from the FA."
Liverpool boss Brendan Rodgers did not initially want to comment until he had viewed the footage of the incident and has now branded Suarez's conduct as 'unacceptable'.
Rodgers said: "Having reviewed the video footage and spoken to Luis, his behaviour is unacceptable and I have made him aware of this."
Speaking earlier at the post-match press conference, Rodgers had said: "This is a club with incredible values and ethics here. As footballers, managers and staff we are representing this great club on and off the field.
"I will always speak openly and honestly about the players and protect them when I can and if I think they are wrong I will tell them - as I have already this season with Luis (when the striker admitted to diving).
"People have to accept it when they do wrong if that's what the case is. They have to accept the consequences accordingly. It's disappointing that we are not talking about the football."
The incident also drew criticism from Sky Sports pundits, and former Liverpool players, Graeme Souness and Jamie Redknapp.
"I'm not sure what to make of it really, embarrassing," Souness told Sky Sports following the match.
"He is making it very difficult for himself to stay at Liverpool, I believe that puts him in the last chance saloon.
"More important than any of that is to safeguard the good name of the football club. This club is a world renowned football club. It is up there with Barcelona, Real Madrid, Manchester United, it is up there with any of them.
"People will be talking about this for a long, long time and it's going to show Liverpool in a very bad light - especially in this week of all weeks, the anniversary of Hillsborough."
Suarez was banned for seven games during his time at Ajax after biting PSV Eindhoven's Otman Bakkal and Redknapp believes the latest incident is 'indefensible'.
Redknapp said: "He got a seven-game ban at Ajax for doing the same thing. He obviously has a real problem.
"Even the staunchest Liverpool supporters cannot look at that and think that's alright. You can't defend that and anyone who tries to is completely wrong.
"I'd be surprised if he plays again this season. What message does will that send if he doesn't get a two or three-game ban.
"He's letting the club down. He's giving the owners a problem.
"It's such a shame because he's playing for such a great football club. How many more chances are you going to give him?"
Professional Footballers' Association chief executive Gordon Taylor also condemned the incident after the latest controversy to engulf Suarez.
"It was not good to see to say the least. It was unacceptable," Taylor told Sky Sports News.
"His reputation for controversy continues to increase when he can be such a good player, one of the world's best, so it is a real dilemma now.
"It's uncalled for, it's not good, it's depressing, it's such a shame for a player who's a really good footballer but this is not the first time that such things have happened.
"I know it's a really difficult one for Liverpool and the FA are going to have to deal with it.