Liverpool await full reasons for Luis Suarez ban before deciding on appeal
Liverpool are to review the full reasons behind Luis Suarez's 10-match ban before deciding whether to appeal.
Last Updated: 25/04/13 9:09am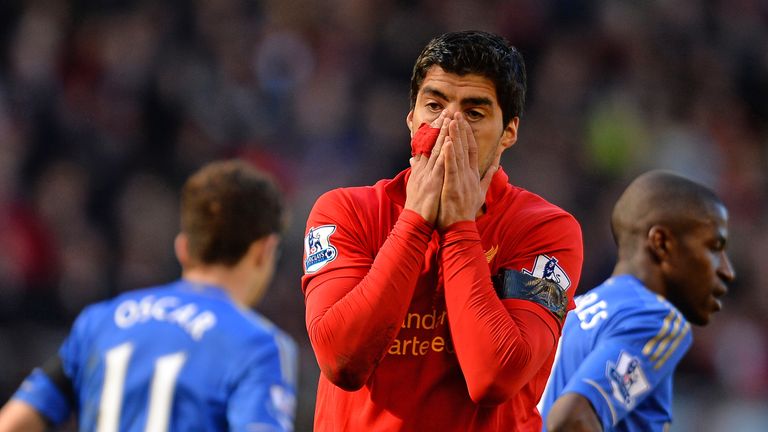 The club were left "shocked and disappointed" after the striker was hit with the Football Association sanction that could see him suspended from domestic football until October.
The severity of the ban caught Liverpool by surprise and there is widespread speculation that the club will also have to make a decision over whether to sell the Uruguay international striker.
Suarez missed eight matches last season for racially abusing Patrice Evra, and following the punishment imposed by an FA independent regulatory commission now faces the prospect of missing the last four games of this campaign and the first six of next season.
Liverpool's managing director Ian Ayre, who earlier this week insisted the club were determined to keep Suarez, said in response to the decision: "Both the club and player are shocked and disappointed at the severity of the independent regulatory commission decision.
"We await the written reasons before making any further comment."
Suarez had admitted violent conduct after biting Ivanovic during the 2-2 draw with Chelsea on Sunday but challenged the FA's contention that he deserved more than a three-match ban.
The commission, however, agreed with the FA, which said in statement: "A three-person independent regulatory commission today upheld the FA's claim that a suspension of three matches was clearly insufficient and the player will serve a further seven first-team matches in addition to the standard three. The suspension begins with immediate effect."
Suarez has until midday on Friday to appeal the additional suspension, above the standard three matches.
Professional Footballers' Association chief executive Gordon Taylor also believes the time has come for retrospective punishment to be allowable for all incidents.
Taylor said: "We've got enough experienced people in football to set up a panel and we have the technology to make quick decisions in the immediate aftermath of the game.
"In this day and age with technology as it is I am very much in favour of retrospective action both ways. If there has been an error and a player has been punished when they shouldn't have been punished or sent off and vice versa."