Luis Suarez's 10-game ban upsets Liverpool manager Brendan Rodgers
Liverpool boss Brendan Rodgers has expressed his dismay at the severity of the 10-match ban handed to Luis Suarez.
Last Updated: 25/04/13 6:23pm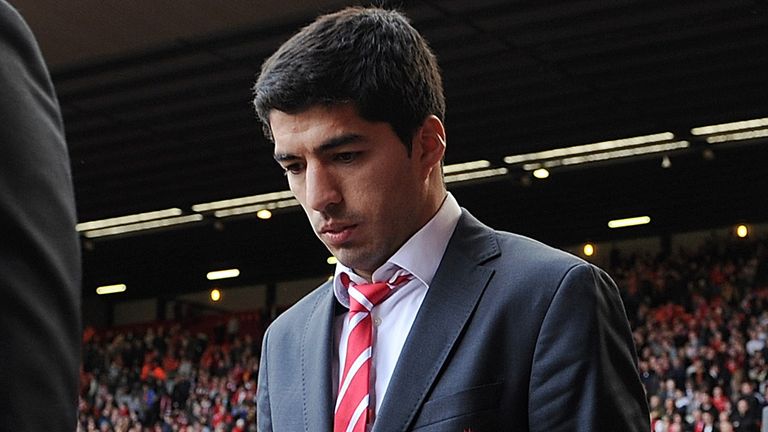 The Uruguay striker was heavily punished for his now-infamous bite on Chelsea defender Branislav Ivanovic in Sunday's 2-2 Premier League draw at Anfield.
Liverpool have until midday on Friday to lodge an appeal against the suspension, although they are waiting to study the FA disciplinary panel's report before deciding their next course of action.
Rodgers claimed the punishment was "against the man rather than the incident", and he felt that Suarez should have been given a suspended ban.
"It is the severity of the ban that has hurt most," said Rodgers.
"That is something we are bitterly disappointed with - not so much the ban because everyone has seen it and Luis was very open and honest to know it was wrong.
"I felt it could have been 12 games but with a six-game ban and six games suspended, looking at his future behaviour. I don't think anyone would have disagreed with that.
"I can't help but look at it and feel that the punishment has been against the man rather than the incident," added Rodgers, who revealed the club will do everything they can to help the volatile striker.
"The player needs a bit of help," he added. "I asked Luis what he was thinking and he couldn't answer.
"There's that little wire in his brain that sometimes acts differently. That's what we're trying to help. We never considered imposing our own ban.
"We will look after our employee with the objective that something like this never happens again. He's still very much part of the Liverpool family and very much part of the future."
Rodgers also insisted he did not feel let down by Suarez, adding: "If we had half a dozen more players like him this football club would be in a different position.
"This is the first time I've ever known an independent committee dictated to by so many people. Even the Prime Minister chipped in with something which is a different matter altogether."
Team-mate Jose Reina has criticised the ban, calling it "absurd, out of proportion and unfair".
"I consider myself a friend of Luis. He is being treated differently, I don't know if it's because he's Uruguayan or because he's had a previous episode like this...," Reina told Spanish radio station Cadena Cope.
"He knows full well that what he did was wrong but a 10-game ban seems to me absurd, out of proportion and unfair.
"It seems that the people making the decisions have got it in for Luis a little bit. That's the way I see it.
"I am not justifying what he did but the punishment is very disproportionate.
"He knows he was in the wrong, he knows he has made a mistake but the treatment is completely out of place.
"Those who know Luis know that he is the complete opposite (off the pitch), he is a magnificent person and great team-mate.
"But because of the way he plays, he is aggressive and very competitive, he plays like a street player and sometimes the way he is gets him into trouble."
Reina also described sections of the English media of being sensationalist and "very, very, very, very hypocritical".
Asked if he felt there was xenophobia in England, Reina said: "There is hypocrisy, I don't know if it's so much xenophobia, but a different yardstick is used.
"Some players are treated differently to others."